Difference Between Residential & Commercial Range
Sleek, professional looking ranges are the trendy choices for kitchens according to many decorating magazines and shows. Several companies specialize in residential ranges whose appearance mimics commercial ranges. Although they look like professional appliances, there are substantial differences in performance.
Commercial Range Benefits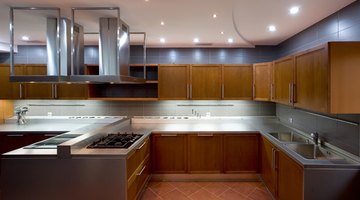 Commercial ranges are durable because they are designed for constant, heavy duty restaurant use. They are usually less costly than home ranges designed to look professional. They have a 25,000 British thermal units (BTUs) output making for more powerful burners. Full-size sheet pans fit easily inside the ovens.
Commercial Range Drawbacks
Residential installation usually voids any manufacturer warranty. Gas lines must be reconfigured because typical residential lines are not powerful enough for commercial ranges. At 24 inches, they are deeper than most kitchen cabinetry and will protrude. Cooking small amounts of food maybe a problem. Very few commercial ranges have self-cleaning features.
Residential Range Benefits
Professional looking residential ranges offer a variety of styling choices. Along with stainless steel, many come in a variety of color choices. None of the drawbacks of commercial ranges apply. They cook small amounts of food well, are easily installed, fit in most kitchens and have features designed for ease of use. They are also more energy efficient.
Residential Range Drawbacks
Residential ranges are not as powerful as commercial ranges. Typically, the BTU output is only between 12,000 to 15,000. Ovens are usually smaller. There are lots of electronic features that tend to break easily.
Writer Bio
Tracie Harris lives in Atlanta and has been writing lifestyle articles since 2008. W.W. Norton is publishing her work in "The Seagull Guide" due out in 2011. Her writing has also appeared in "The Historian" and The Good Cook. Harris is a former social studies teacher. She holds a B.A. in history and secondary education from Agnes Scott College.
Photo Credits
More Articles