How Do I Determine What Model My Old Buck Stove Is?
If you do not have the original paperwork on your Buck stove, then you must use other methods to determine the model number. Knowing the model of your stove is essential to ordering the correct parts or accessories should the need arise.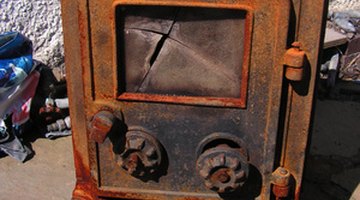 Identification
Measure the door opening of your stove. If it is 18 inches, the model is 26000, 20 inches is model 27000 and 24 inches is model 28000.
Size
If you are using the stove as an insert, allow 17 inches for depth on any of the models. The height needs to be between 22.25 and 33 inches, depending on your model, and the width must be between 34 and 47 inches, depending on your stove's model.
Warnings
Never use gasoline or similar fuel to freshen the fire in your stove. Always store firewood at a safe distance away from your stove. Inspect your chimney monthly during heating season.
References
Photo Credits
wood burning stove image by Paula Gent from Fotolia.com
wood burning stove image by Paula Gent from Fotolia.com
More Articles