How to Distress Wood Trim
Antiquing the wood trim in your house makes a dramatic statement. Several manufacturers make and sell distressed trim, but it's also a do-it-yourself project that can be completed in less than a weekend. When you distress wood trim, you're responsible for the level of antiquing and distressing that occurs. The end result is a fashionable wood trim that complements a rustic home, country style house or an antiqued room.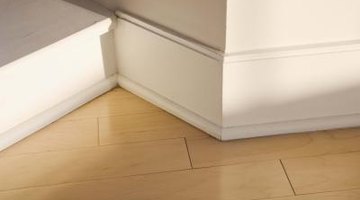 Dust the trim carefully with a dry cloth. Wipe a soft cloth dipped in soapy water across the surface of the trim, cleaning off any stains or tacky spots. Rinse the cloth in fresh water and wipe again to remove the soapy residue.

Smooth the wood trim with 100-grit sandpaper. Rub the sandpaper all over the wood trim to give it an even and smooth surface. Wipe away any sawdust or wood chips with the soft cloth.

Dip a paintbrush in the wood stain and gently brush the stain onto the trim. Rub the surface of the trim with an old rag, wiping away any excess stain. This gives the trim a deeper and richer color.

Pick the areas that you want distressed and rub beeswax along those areas. Rub a thick layer of beeswax on the wood with your hands. Focus on the corners, some of the edges and other areas that normally receive a large amount of wear. For example, use beeswax on areas where the wood trim meets the window. When you paint the wood, the beeswax will keep those areas of the wood from absorbing the paint.

Dip your paintbrush directly into the paint and apply a thin coat of paint to the wood trim. Let the paint dry completely and add another coat if you prefer a darker look. Wipe steel wool across the areas with the beeswax to make the paint and wax peel away.

Apply beeswax to the distressed areas of the wood, rubbing it on with your hands, to keep the paint from sticking to the distressed spots. Apply a second coat of paint. Rub the steel wool over the wood again after the paint dries, pulling off the wax. Treat all areas of the trim with a clear sealant that protects against moisture damage.
References
Tips
If you prefer a more distressed look, try sanding down the wood in between the layers of paint. Once one coat dries, lightly sand the surface and then apply a second coat. This lets the original wood show through, as well as the different coats of paint.
Writer Bio
Jennifer Eblin has been a full-time freelance writer since 2006. Her work has appeared on several websites, including Tool Box Tales and Zonder. Eblin received a master's degree in historic preservation from the Savannah College of Art and Design.
Photo Credits
Jupiterimages/Creatas/Getty Images
More Articles