How to Repair a Vinyl Bean Bag Chair
Bean bag chairs are cozy to sit in because they conform to the shape of your body. Having gotten their name from once being filled with actual dried beans, these chairs are usually either round or egg shape and are now filled primarily with Styrofoam pellets. Bean bags are basically made up of three parts: the outer shell, liner and filling. The outer shell is usually vinyl and, with a lot of use, can tear. When this happens, you can use a vinyl repair kit to repair the rip. If the tear goes for too long without repair, the lining can become damaged and the inside filling will come out.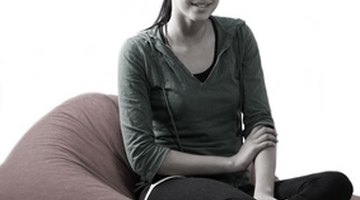 Locate the hole, rip, tear or burn on your vinyl bean bag.

Match the color of your bean bag to the different colors available in the kit. Mix the liquid repair as instructed by the manufacturer.

Scoop the color repair onto a spatula and apply to the damaged area. Cover the entire area evenly. Choose the grain of paper that best resembles the pattern or texture of the vinyl chair. Place the textured sheet over the liquid.

Heat the paper with the tool provided in the kit to melt the liquid into place. Follow the manufacturer's directions to know how much time the paper needs to cool. Peel the paper away carefully.
Warnings
Keep children away from the hot iron.
Writer Bio
Based in Los Angeles, Lisa Finn has been writing professionally for 20 years. Her print and online articles appear in magazines and websites such as "Spa Magazine," "L.A. Parent," "Business," the Famous Footwear blog and many others. She also ghostwrites for mompreneurs and business owners who appear regularly on shows such as Ricki Lake, HGTV, Carson Daly and The Today Show.
Photo Credits
Young pretty women on red bean bag relaxing image by Christopher Meder from Fotolia.com
More Articles