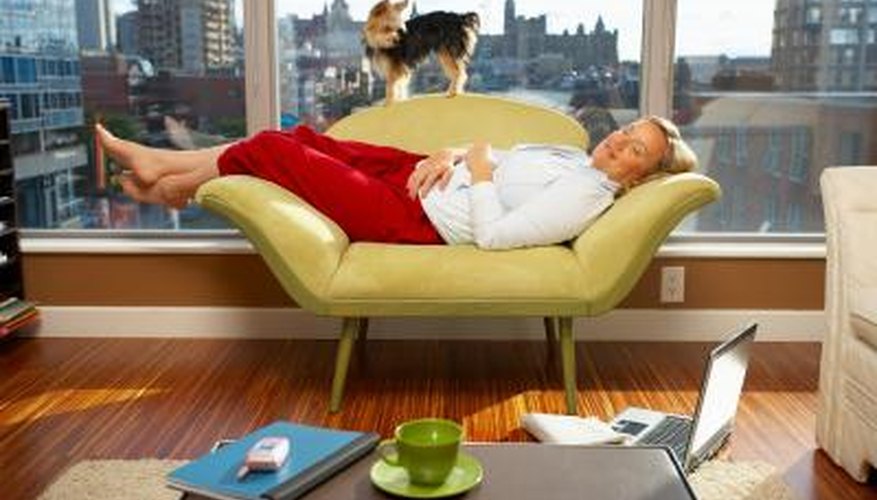 The bench is low to the floor and large enough for most dogs to sit or lie on. It is a basic box with a carpeted top. You can place your dog's favorite blanket, cushion or bed on the bench for added comfort.
Step 1
Using the 12-inch-wide plywood pieces, position the two 22 1/2-inch panels with their cut ends inside the sides of the 24-inch pieces, forming a square. These are the sides of the box.
Step 2
Drive four evenly spaced flush trim wood screws through the outside of the 24-inch panels into the ends of the 22 1/2-inch panels at each corner, using a screw gun.
Step 3
Lay the 3/4-by-24-by-24-inch panel on top of the square; it should fit flush with all the edges.
Step 4
Attach the top panel by driving flush trim wood screws through the top into the top edges of the sides, spacing them every 3 to 6 inches.
Step 5
Apply a coat of paint to the exposed surfaces of the assembled bench with a paintbrush. Allow the paint to dry 24 hours.
Step 6
Lay out four carpet tiles over the top of the bench. Remove the adhesive backing and press them into place.
Things You Will Need

2 plywood panels, 3/4-by-12-by-22 1/2-inches
2 plywood panels, 3/4-by-12-by-24-inches
Box, flush trim wood screws
Screw gun
Plywood panel, 3/4-by-24-by-24-inches
Paint
Paintbrush
Box, 12-by-12-inch adhesive carpet tiles