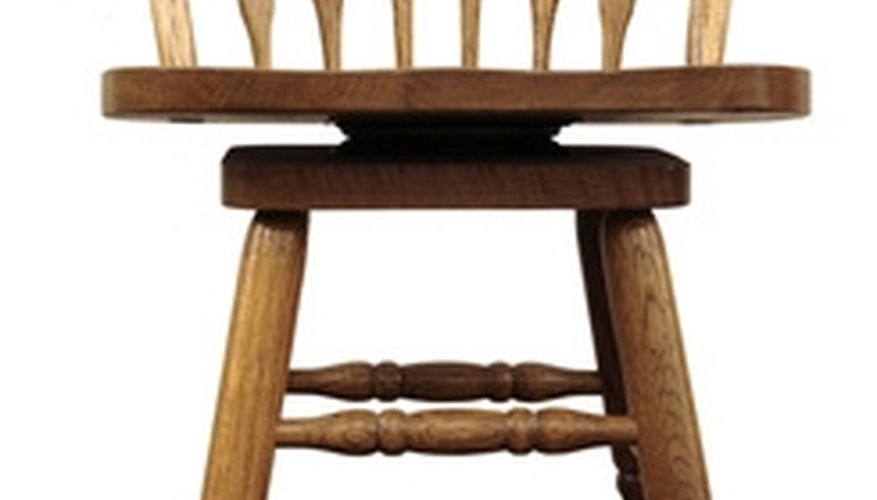 These tall seats usually have no arms but feature foot and back rests. Materials for the frame range from wood to steel, and the seat is usually made from leather, wood or padded upholstery. Two to five stools fit in a designated area, depending on the length of the counter. Swivel bar stools require some assembly, and the manufacturer may or may not include an exploded parts diagram along with written instructions.
Unpack the box and place the contents on a flat, level surface near your screwdriver and wrench. Verify that you have all the parts and hardware, including the necessary nuts, bolts and washers.
Place the lower legs upside down on the floor. Set the upper legs over them, aligning the grooves in the central bars.
Slide the circular footrest over the legs and insert bolts into the pre-drilled holes. Secure the bolts with nuts and washers, but do not tighten.
Attach the back rest to the seat frame, if applicable. Turn the back rest upside down and line up the ends of the vertical side bars with the pre-drilled holes in the seat. Insert bolts and screw them in with your screwdriver.
Place the swivel plate onto the seat assembly, lining up the pre-drilled holes in the plate with the holes in the cross bars of the seat. Insert four bolts and secure with nuts and washers.
Turn the legs and seat assembly right-side up. Position the seat assembly on the legs, lining up the holes in the seat frame with the holes on the cross bars of the legs. Insert short bolts into the holes and secure with washers.
Turn the whole frame upside down and slide the cushion over the seat frame. Hold it in place while inserting bolts through the holes in the frame and the underside of the seat. Tighten all bolts with your wrench.
Things You Will Need

Swivel bar stool parts
Screwdriver
Wrench