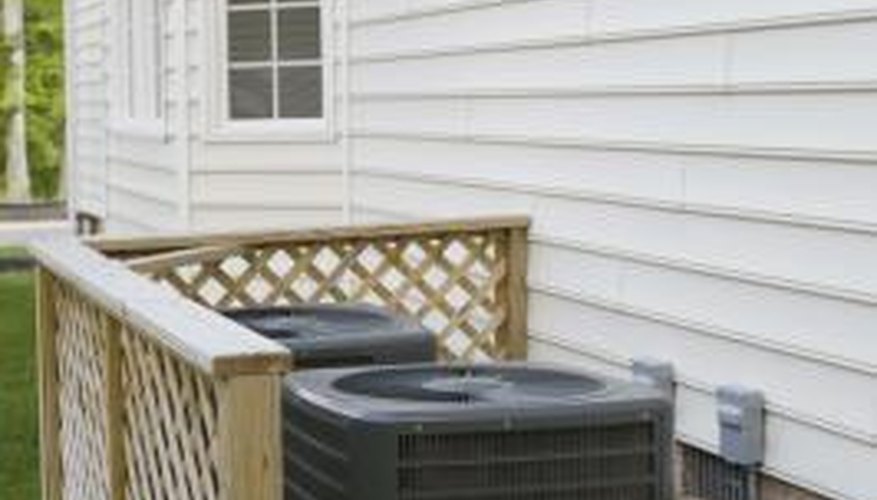 The copper used in air conditioning units is frequently stolen for resale on the scrap metal market and as a result, you could have to replace your unit because of damage. Securing your air conditioner against compromise can save you thousands of dollars while also providing peace of mind. Equipment on the market aids in protecting your outsider air conditioner against theft or damage.
Step 1
Place an alarm on your air conditioning unit. Alarm systems are designed to attach to an AC that are difficult to remove and they emit a high-pitched scream when the unit is tampered with. This helps scare away potential vandals or thieves who want to find an easier target.
Step 2
Lock a protective cage around your air conditioner. AC cages are designed as anti-theft devices that are difficult to remove or saw through. A thief would not be able to access the copper in your air conditioner without first bypassing the cage and most thieves won't want to risk the added time and effort. This also helps protect the alarm on the system if you installed one.
Step 3
Light your air conditioner at night. Thieves generally prefer darkness since it helps reduce the chances of being seen and caught. Security lighting will activate either because of a lack of sunlight or because it detects motion and either option will help secure your system.
Step 4
Install a fence around your property. Ideally the fence should be at least 7 feet high to be more difficult to climb over. This provides another barrier between a thief and your air conditioner, helping reduce the risks of vandalism or damage.
Things You Will Need

AC alarm
Protective cage
Fence
Security lighting