How to Remove Stair Rails
Two types of stair rails commonly adorn a home: wall-mounted stair rails and spindle-mounted or newel post-mounted rails. Metal brackets hold the wall-mounted type to the wall with screw fasteners. Spindle-mounted rails are a little more complicated. The rail itself attaches to the newel posts at each end of the staircase and then a number of upright spindles attach to the underside of the rail along its length. Flat pieces of filler wood lock these spindles into a grooved channel on the rails underside.
Wall-mounted Stair Rails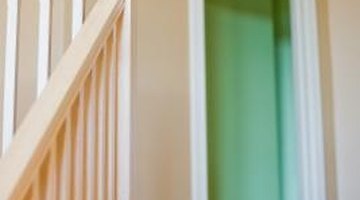 Undo the screws that connect the stair rail to the wall-mounted brackets. Use a screwdriver to accomplish this.

Pry the stair rail up off the brackets. If a touch of glue was used to help hold the rail in place, you may have to pry up more forcefully.

Carry the rail down or up the stairs to a desirable storage location.
Spindle and Newel Post-mounted Stair Rails
Pry out the top, flat filler piece that is in between the first spindle and newel post. Pry it out with a pry bar and claw hammer. This piece may be glued in and so you'll have to hit it fairly hard. Don't worry if you break it because new pieces are inexpensive.

Slide each subsequent spindle upward until the wood filler pieces fall out of the underlying groove of the stair rail. Each of these may be tacked in with glue and so prying may be required. Continue detaching the spindles until you get to the bottom newel post.

Locate the screws that hold the stair rail to the newel posts. You'll usually see a small wood plug. This plug covers the screw head. The head of the screw will be on the opposite side from the rail. Pop the plugs out with a flathead screwdriver.

Undo the screws with a Phillips or flathead screwdriver. The rail should now be free from the newel posts. Lift the rail up off the spindles and remove it from the staircase.
References
Warnings
Once the rail is removed from the staircase, use extra caution to avoid falling off the stairs.
Photo Credits
Jupiterimages/Photos.com/Getty Images
More Articles