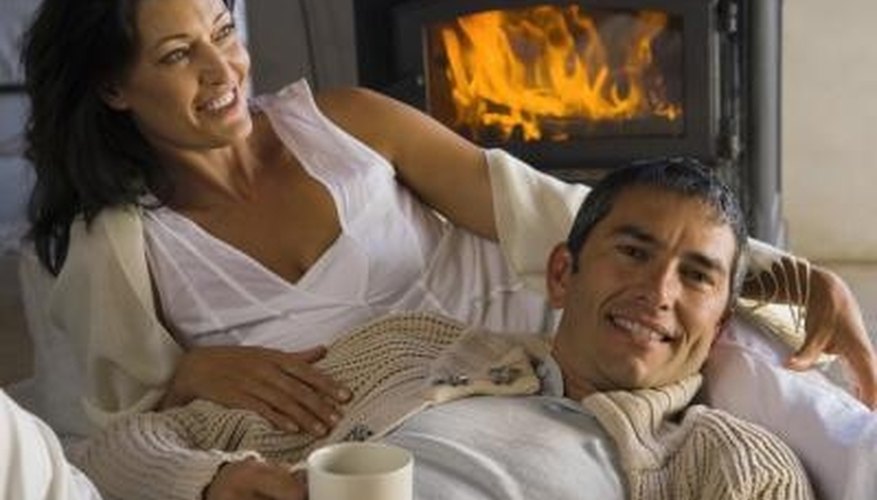 Before you purchase one, however, plan how to vent the smoke out of your house. The best way to do this, if you want to do the work yourself, is to install pipes up through the chimney. If you don't have a chimney, then the project is more risky -- because the pipe will need to pass through the roof or a wall. With the heat of the pipe going through combustible material, fire is possible, and it is better to get a professional's help with installation.
Place a heat shield behind the stove. Anchor it to the wall with screws. These shields protect the wall from the heat, and allow you to put the stove closer to the wall instead of 2 or 3 feet away. Set a heat shield or heat-resistant material on the ground as well such as stone, brick or tile.
Slip stove pipe or insulated chimney pipe onto the vent opening on the stove. Drill sheet-metal screws through the opening connector and the pipe to attach them.
Slide more pipes onto the one that's attached, working your way toward the chimney. Connect them all together with sheet-metal screws. Once you get to the chimney, rest the pipe on something so it doesn't bend or kink. You will now go to the roof to insert pipes going down into the chimney.
Climb a ladder, with someone holding it at the bottom until you get up there. Haul pipes up to the roof for you to work with. Use a rope and the person on the ground to help you get all your materials up top.
Select a flexible pipe to start the pipe going down the chimney. You will need this at the bottom to connect to the pipe you have already installed to the stove. Connect a section of double- or triple-layered chimney pipe to the flexible tube. Slide this down the chimney opening. Repeat by connecting more sections until the person on the ground is able to pull the flexible tube through the flue and tell you when it reaches the pipe already installed.
Slide flashing onto the end of the pipe once you have installed enough to get all the way down the chimney. Drill sheet metal screws into the pipe to connect the flashing to it, and drill masonry screws through the flashing and into the chimney to attach it to the opening. Connect another section of pipe, if needed to ensure the pipe is above the roof line by 2 feet or more.
Slip a rain guard over the pipe and attach it to the pipe a foot above the chimney opening. Attach a cap on top so that rain water doesn't fall down the pipe.
Connect the flex tube to the pipe inside the house once you climb back down and go inside.
Things You Will Need

Heat shield
Screws, 3-inch
Floor heat shield
Stove pipe
Insulated chimney pipe
Sheet-metal screws
Drill
Ladder
Rope
Flexible pipe
Flashing
Rain guard
Chimney cap