How to Troubleshoot Cavaliere Range Hoods
Cavaliere produces a variety of hoods for use in kitchens, including wall-mounted, island and under-cabinet range hoods, plus parts and accessories. Range hoods are designed to pull food odors and smoke up and expel it outside, instead of allowing the smoke and smells to remain in the kitchen. Available in a number of sizes and finishes, Cavaliere hoods should function well once installed with basic care and maintenance. However, if problems arise, troubleshooting may be useful for users hoping to solve the problem without professional assistance.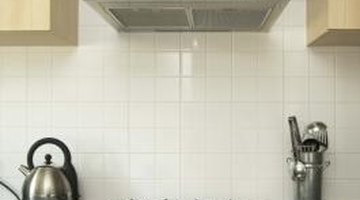 Step 1
Verify that the Cavaliere hood is plugged into a working power supply if the hood or light does not operate. Turn the power switch to "On" and reset the circuit breaker if necessary.
Step 2
Examine the hood if it vibrates when the blower is on and verify that it is securely attached to the wall or ceiling. Tighten if necessary according to the installation guide for your range hood.
Step 3
Turn the power to "High" if the unit is on but is not venting properly during use or smoke remains in the air.
Step 4
Contact an authorized service technician if the above steps do not resolve the problem. Other potential issues include improper distance between the stove top and bottom of the hood, improper duct sizing or a damaged blower. These issues may require professional assistance.
Writer Bio
Meredith Jameson writes early childhood parenting and family health articles for various online publications. She holds a Bachelor of Arts in history from San Francisco State University.
Photo Credits
Jupiterimages/Comstock/Getty Images
More Articles