DIY Repair of Automatic Watch Winders
Watch winders keep self-winding or automatic watches running even when idle. They wind themselves via a mobile weight inside them. The weight rotates or swings while a watch is worn and it makes the winding mechanism turn. If an automatic watch is idle, it won't receive power and it will run down eventually. The automatic watch winder was conceived for convenience because there are automatic watches that can't be manually wound.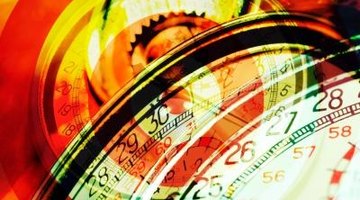 Find a screw that will fit into the old record player's center. Drill a small hole into the plastic box's backside. The hole must have similar size with the screw.

Attach the hook-and-loop fastener pads. Attach one circular pad on every corner of the plastic box's backside.

Cut a piece of a packing foam. Utilize a knife for cutting. The packing foam piece must be similar to the plastic box's size so the foam will fit comfortably into the box.

Create a hole in the packing foam's center. The hole must match the size of the watch. Then put the watch inside the packing foam. The watch's face must be in front. Ensure that it comfortably fits the foam.

Put the screw inside the hole at the plastic box's back part. Tighten the screw and ensure that the packing foam fits comfortably inside the box.

Attach the screw into the record player's center. Slightly pull away the box from the old record player. Make pencil marks to spot every hook-and-loop fastener pad. Then, take out the box from the record player. Attach the pad pieces' reverse sides onto the record player. After that, reattach the box into the record player through screw insertion into the record player's center.

Wind your watch. Turn on the record player to wind the watch. The settings must be on lowest speed.

Turn on the watch winder for twelve hours. Remove the watch from the plastic box's foam. Then, reinsert the watch in the packing foam. The watch's face must face the record player. Turn on the player with the lowest speed setting. Leave the watch in the winder for 12 hours more.
References
Writer Bio
Ken Hamilton started writing professionally in 2005. His work on various subjects such as sports, business and travel has been published online for Business.com and Alabama Travel. He is a successful entrepreneur who has started and sold numerous businesses. Hamilton holds a Bachelor of Science in business from the University of North Alabama.
Photo Credits
Hemera Technologies/AbleStock.com/Getty Images
More Articles