Prepare Your Materials and the Siding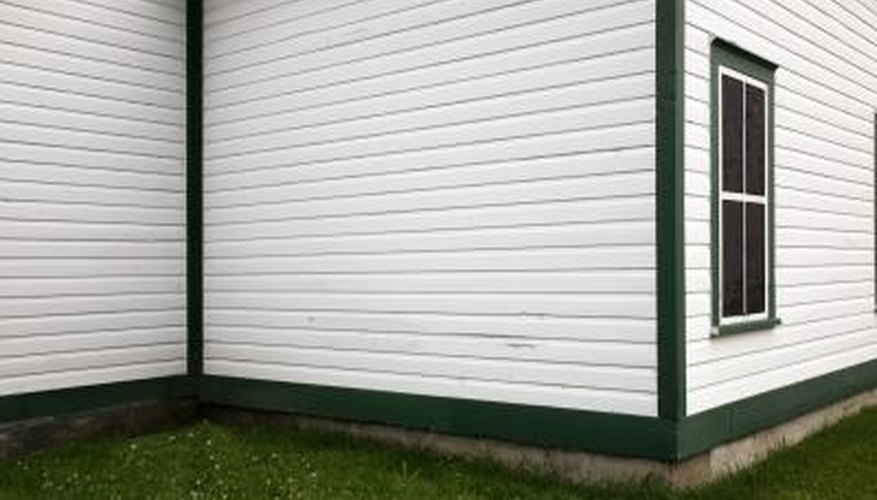 Some types of siding on homes hold paint better than others. If you have vinyl siding and would like to change the color, you're in luck: with the correct paint and materials vinyl siding can look good for years to come.
Select a high-grade acrylic latex paint for your vinyl siding. This type of paint is important because vinyl siding expands and contracts depending on the seasons and weather and the paint should as well. The best acrylic paints to use are a blend of urethane and acrylic. These acrylic paints will be labeled "urethane."
Choose a color of paint that is the same or lighter than the original color of your siding. Because vinyl can distort when overheated it is important not to choose a darker color that will absorb more heat than your vinyl was manufactured for.
Prepare your siding for painting by cleaning off the dirt and mildew. While power washing may be quicker and easier, it is not the best option for cleaning siding as it may cause water to be absorbed into the siding causing the new paint problems later. Soap and water and a good hand scrub is the best way to clean.
Paint The Siding
Cover areas surrounding the vinyl to be painted with painter's tape to ensure you don't accidentally paint other areas.
Setup drop clothes under the areas to be painted to keep areas like the roof and sidewalks clean.
Stir paint thoroughly with a paint stirrer prior to painting. Shaking paint may cause air bubbles; stirring is a better way to blend paint.
Start painting in one corner of the house and drag the paintbrush along the grain of the siding for best results. Continue from the one corner down or up until the whole house is covered in a thin coat of paint. Use the smaller detailing paintbrush to cover nooks and crannies the larger brush may have missed.
Apply a second coat of paint after the first coat is completely dry. A second coat of paint will help with complete coverage as well as ensuring your paint job won't fade or peel.
Things You Will Need

High-grade acrylic latex paint
Soap and water
Large paint brush
Small detailing paint brush
Drop cloth
Tip
Painting on a warm, sunny day may seem like the best idea but in reality overcast weather provides the best conditions under which to paint your vinyl siding. Allowing the paint to dry in overcast weather away from direct sunlight or extreme wind will allow it to bond to the siding.