How to Paint Wood Filler
Wood filler is a reliable option when it comes to covering up pits and gouges in any wood work. After wood filler is set into wood, you can cover it simply with a coat of paint. Wood filler is not porous like wood; therefore, some addition preparation is required to achieve a nice, finished appearance.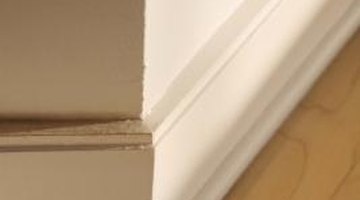 Sand down the wood filler to create a finish that is consistent with the surrounding wood. Sanding the wood filler will rough up the texture slightly, allowing primer and paint to absorb into the wood filler and create a reliable finished appearance.

Wipe down the surface with a damp rag. It is important to remove any dust particles as this can cause inconsistencies in the painted surface. Allow area to dry completely before continuing.

Stir primer and pour it into a paint tray. Roll the primer over the wood filler and the surrounding area to create an even finish. At this point the wood filler will no longer be noticeable and will have a flush appearance with the rest of the wood around it. Let primer dry for two hours.

Stir paint and pour it into a paint tray. Roll paint over the entire area to create a beautifully finished area. Allow paint to dry for one to two hours and paint over one additional time.
References
"Black & Decker Finishing & Refinishing Wood: Techniques & Projects for Fine Wood Finishes"; Editors of Creative Publishing; 2006
Writer Bio
Nicole Byerly has been writing since 2003. She has published multiple works that have appeared in "Campus Philly." Byerly is pursuing a Bachelor of Science in cybersecurity at Utica College.
Photo Credits
Jupiterimages/Creatas/Getty Images
More Articles