How to Remove Rust Stains From Exterior Paint
Rust stains normally occur when metal becomes wet and is left to evaporate on surfaces. Metal that comes in contact with paint, such as nails on a painted home's exterior, can develop rust stains that bleed into the surrounding paint. You can remove the rusted nails and replace with new ones, but that does not solve the rust problem on the paint. A rust remover helps to dissolve rust stains without hindering the paint.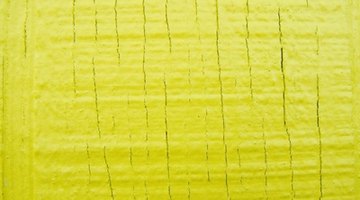 Wipe the rusted area on the paint with a clean rag to remove any loose rust particles.

Apply a rag soaked in rust remover to the rust stain. For a light rust stain let the rag remain on the stain for 30 minutes. For a heavier stain the rust remover can stay on the paint overnight.

Remove the rag and wipe the rust stain away with a damp rag. The rust stain should be loosened enough to remove the stain completely. You do not have to rinse the rust remover from the paint. Dry the area completely with a clean rag.
References
Tips
Sand the rust with a steel brush or sandpaper anywhere that rust has developed under the paint. When rust has formed under exterior paint, remove the paint to get rid of the rust. Wipe the rust away with a clean rag and apply paint primer to the surface. Allow the primer to dry, then repaint.
Writer Bio
Constance Barker, located in the hills of southern Ohio, is the owner and writer of several financial, credit report and travel websites. She started writing in 1999 for private clients and began creating website content in 2004. She gained expertise in home improvement after she and her husband built their home themselves.
Photo Credits
Yellow Exterior 20080713-1210427 image by SIGNSofMIND from Fotolia.com
More Articles