How to Glue a Slate Water Fountain
Slate is a common stone type used in the design of residential water fountains. The smooth sheets of stone are easily stacked as a base, or used as tiles against walls as backsplashes to create stunning fountains of varying shapes and sizes. One of the reasons slate is such a popular building material is its ability to be glued into place. The slate surface accepts the glue readily, allowing you to adhere it to a large number of compatible materials from wood to PVC. Preparation before gluing is minimal, and, once the glue sets, the slate remains for years, allowing you to enjoy your fountain without the visual interference of mechanical fastenings.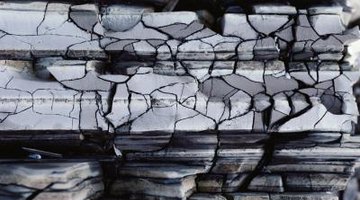 Step 1
Clean the slate using a pH-neutral stone cleanser and a sponge. Remove any traces of dirt from the surface of the slate with the cleanser, and then rinse the cleanser off the stone with clean running water. Pat the slate dry with paper towels.
Step 2
Clean the surface that you're gluing the slate to using a neutral cleanser formulated for the surface type and the sponge as well. Rinse with clean water.
Step 3
Examine the mounting surface where you intend to glue the slate for signs of applied finish or paint that could interfere with the adhesive. A glossy look to the surface is a good sign of an applied finish, as well as a plastic feel to the surface. Put on a face mask to avoid inhaling dust. Sand finished or painted surfaces lightly with fine-grit sandpaper to texture the surface. A slightly textured surface is easier for the adhesive to grip, forming a tighter bond between the slate and the mounting surface. Wipe the surface with a clean cloth after sanding to remove dust.
Step 4
Apply a generous layer of water-resistant construction adhesive to the slate using a paintbrush. Press the slate to the mounting surface, holding it in place for about 30 seconds to allow the adhesive to grip the surface.
Step 5
Wipe away any excess adhesive from the surface or sides of the slate with a damp cloth, then allow the adhesive to dry for about two hours.
Step 6
Place a bead of silicone caulking around the edges of the slate to help create a waterproof seal between the slate and the surface it's glued to. The seal will prevent water from working its way beneath the slate and interfering with the adhesive. Wait overnight for the caulk to dry before filling the fountain with water.
Writer Bio
Larry Simmons is a freelance writer and expert in the fusion of computer technology and business. He has a B.S. in economics, an M.S. in information systems, an M.S. in communications technology, as well as significant work towards an M.B.A. in finance. He's published several hundred articles with Demand Studios.
Photo Credits
Jupiterimages/Photos.com/Getty Images
More Articles