How to Decorate a Cement Bench
A cement bench provides a sturdy yet attractive option for an outdoor space such as a patio, garden or front porch. While the bench may be plain in color and style when first purchased, adding your own decorating flair provides a way to customize it to your liking. Plan your decorative elements to match other yard décor near the cement bench.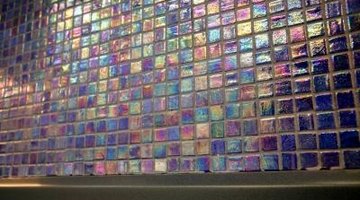 Wipe down the cement bench to remove any dirt buildup or cement dust. Regardless of your choice of decorating, starting with a clean bench allows for a smooth finish.

Add a layer of decoupage on the bench. Select decorative paper, photographs or even cutout words and create a collage. Glue the elements into place with an all-in-one glue and sealer. Allow time for the glue to dry and apply a coat on top of the pictures. Repeat the process. Finish the bench by spraying on a coat of waterproof acrylic sealer.

Paint the cement bench for the simplest way to decorate the object. Use waterproof acrylic paint designed for outdoor use for a weatherproof option. Apply a single color to the bench, paint a detailed picture or create a bold pattern with multiple colors.

Add tile to the seat of the bench. Create a mosaic or apply the tiles in a uniform pattern. Use flat tiles like ceramic or glass for the most comfort. Apply a layer of mosaic cement to the surface of the seat. Press your tiles into place in the desired order. Allow time for the cement to dry. Mix up a batch of cement-based grout and use a masonry trowel to spread it between the cracks of the tiles. Wipe off the excess with a damp cloth. Let the tiled surface dry and brush off any dust left behind.
References
Writer Bio
Sarah Schreiber has been writing since 2004, with professional experience in the nonprofit and educational sectors as well as small business. She now focuses on writing about travel, education and interior decorating and has been published on Trazzler and various other websites. Schreiber received a Bachelor of Arts in mass communications.
Photo Credits
Jupiterimages/Photos.com/Getty Images
More Articles