Brick Doorstop Crafts
Bricks make a great base for crafting. They are hard, durable and easy to find. You won't have to spend a lot of money to create brick doorstop crafts, in most cases you can use supplies you have on hand. If you do have to buy supplies, you will only need a small amount, due to a brick's small size. Make brick doorstop crafts for every room in your home, or make several for one room and rotate them.
Paint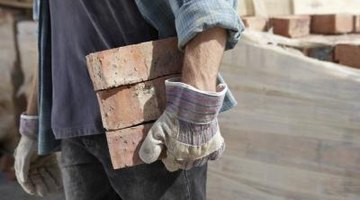 Use paint to create a fun doorstop from a plain brick. Base-coat the brick with white paint to help the other colors adhere and show up well. Then paint your brick to accent your room, or make holiday bricks for each season. Once you are happy with the way the brick looks, add a coat of clear acrylic sealer to protect the design. Your brick will be ready to use as soon as the sealer is dry.
Fabric
Visit a quilt or fabric store and select a fabric that appeals to you or matches your home decor. You'll need about half a yard of fabric to cover your brick. Wrap the brick in batting or an old towel first if you want to give it a softer appearance, then wrap it in the fabric. You can secure it with a pretty ribbon or hot glue, or use Japanese fabric-wrapping techniques.
Decoupage
Use a decoupage medium such as Mod Podge to attach colorful paper to your brick. Look through your scrapbook supplies to find papers and embellishments to transform your brick, and apply them. You can also create brick doorstops for specific holidays or featuring favorite characters or themes. Decoupage works with any kind of paper, from newsprint to glossy magazine pages, so you can select any images that appeal to you. Let the decoupaged covering dry overnight before using your brick.
References
"The Michaels Book of Arts & Crafts"; Lark Books; 2003
"The Big Book of $5 Crafts"; Annie's Attic; 2001
"Mary Engelbreit's Outdoor Companion"; Mary Engelbreit; 1996
"Everything Scrapbooking Book: Creative Ideas for Preserving Memories That Last a Lifetime"; Jennifer Barr; 2002
Writer Bio
Sarah Emerald is the author of books and magazine articles specializing in crafts, family, business and the home, including Create and Decorate, Hilton Head Monthly and Crafts magazine. She has a Bachelor of Arts in English from a small private college in the southeastern U.S.
Photo Credits
Digital Vision./Photodisc/Getty Images
More Articles