How to Transfer Photos to Lamp Shades
Transferring a photograph to a lampshade is simple enough to do at home if you have a computer, printer and -- if you only have a hard copy of the photo -- a scanner. Otherwise you can still complete the project but it will involve a trip to your local copy place. Once you understand the basic technique (essentially decoupage), you can use it to make many different styles of shade with all kinds of photos such as family portraits, landscapes and close-up photos of objects. The materials needed are inexpensive, and you can recycle an old lampshade if you have one.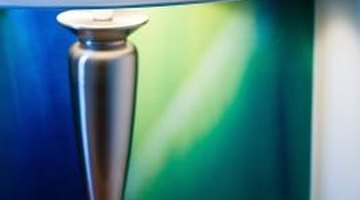 On your computer, open the digital photos you want to apply to your lampshade. If you only have hard copies of the photos, scan them in and then open the digital files.

Edit the photos (if you wish) using software such as Adobe Photoshop. You may want to resize them, change them from color to black and white or sepia, lighten them, crop them or use special effects.

Print the photographs onto regular white printer paper. Don't use heavy paper or photograph paper as it is too heavy and thick for the decoupage techniques involved in transferring them to the lampshade.

Cut the photographs out and hold them up against the lamp shade to decide on their positions. You could just place one photo on the front of the shade, wrap a panoramic print around the entire shade, or make a collage of multiple photos.

Paint a thin layer of white glue onto the first part of the shade you will be sticking a photo to, then smooth the printed photo down onto the glue. Smooth it down carefully with your fingers to eliminate any bubbles or wrinkles.

Continue applying white glue and sticking printed photos over the shade until your design is complete. Wait for the glue to dry completely.

Paint a thin layer of white glue over the entire shade, covering all the photos. Let the glue dry completely; it will become transparent and reveal the photographs.
References
Tips
Choose a lampshade with a smooth, nontextured surface.
For a different look, print your photographs onto transparent vellum. If you paste the vellum photos on the inside of a light-colored shade, they will only be revealed when the light is on.
Make sure you save edited versions of your digital photographs so that you can print a replacement if you make a mistake or tear one of them while you are working.
Writer Bio
A writer of diverse interests, Joanne Thomas has penned pieces about road trips for Hyundai, children's craft projects for Disney and wine cocktails for Robert Mondavi. She has lived on three continents and currently resides in Los Angeles, where she is co-owner and editor of a weekly newspaper. Thomas holds a BSc in politics from the University of Bristol, England.
Photo Credits
Jupiterimages/Photos.com/Getty Images
More Articles