How to Stand Up the Cosco World's Greatest Ladder
Sometimes we are just not tall enough to get the job done. Cosco's ladders have been helping us reach formerly unthinkable heights since 1939. Cosco's World's Greatest Ladder allows you to perform tasks both indoors and outdoors of varying heights without ever needing another ladder. The design of the World's Greatest Ladder allows the ladder to be adjusted and function as up to five different lengths of ladders. This makes the World's Greatest Ladder one of the more versatile tools on the market. Making it stand up is made simple by the ladder's design.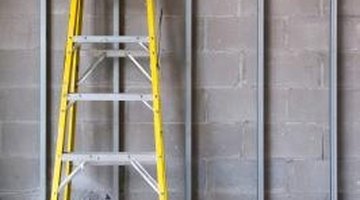 Pull the two sides of the ladder apart to use a stand-alone step ladder. While the World's Greatest Ladder is complexly designed to fit many situations, it is still very simple to pull it apart and stand it upright. When it is in its smallest form (not spread apart and legs not extended), the World's Greatest Ladder is actually quite compact. Its compact frame makes it easy to transport and pop open for those jobs that you maybe don't need a 21-foot ladder for.

Unhinge the locks on the interior leg extensions. Each side of the World's Greatest Ladder can be extended various lengths depending on which size ladder you purchase. You can extend it by simply unhinging the safety locks and then lifting whichever side you would like to extend.

Grab the bottom of one side of the World's Greatest Ladder while a friend grabs the other side and simply pull the two sides apart. This will transform your step ladder into a wall ladder. Depending on how tall of a ladder you require, you may not need that extra set of hands. World's Greatest Ladder uses spring-loaded locking levers to safely allow you to simply execute this transformation by extending one side of the ladder over the top of the other. It literally gives you the opportunity to double the size of the ladder by unfolding it.
References
Resources
Warnings
If you are extending the ladder's height to a dangerous level, have another person standing at the base of the ladder to hold it steady for you. Keep in mind some of these ladder can be extended to up to 21 feet.
Writer Bio
Lee Lyons was first published in 2002 in "The Eagle News" located in Paragould, Ark. He has also written and done photography for The Cowley Press. He has written and produced material for Pollack Broadcasting and KACY 102.5. He has written and directed both short films and plays. In 2009 Lee received an associate degree in English from Cowley County Community College.
Photo Credits
Jupiterimages/Photos.com/Getty Images
More Articles