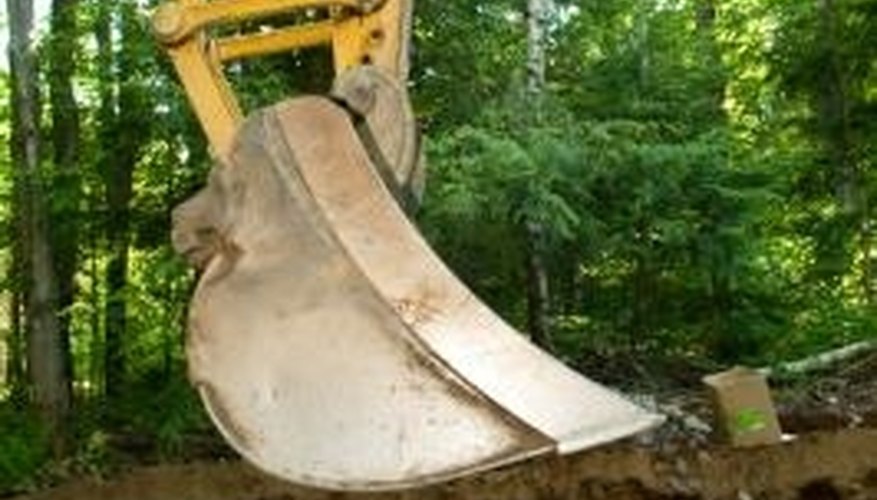 Soil-based drain field designs use the elevation of the redoximorphic features to determine the height of the system. Water-saturated conditions create redoximorphic features by moving iron in the soil. According to most state septic system codes, drain fields must be three feet higher than this condition. This height can be naturally occurring or can be made by adding material, resulting in a raised system. Raised drain fields exist in varying heights up to five feet in total.
Consult the septic system design and mark the area where the drain field will be located with flags.
Cut any trees in the drain field area flush with the ground level and mow grass to no more than two inches high.
Position the excavator next to the absorption area of the drain field. Use the teeth of the bucket to roughen the turf layers so the mound sand can come in contact with the soil.
Place clean sewer sand on top of the roughed up area into the shape and elevations as specified in the septic design.
Use a skid steer to cut a level area in the sewer sand underneath the future rock-bed area of the drain field.
Place sewer rock into the level portion of the sewer sand to the elevation specified in the septic design.
Hand-dig three trenches in the sewer rock evenly spaced to accommodate the drain field laterals. Place the laterals in the trenches so their perforations are pointing downward and their tops are covered with two inches of rock.
Unroll the geo-textile fabric on top of the rock bed.
Place sandy loamy soil over the entire area, including the sand and rock-bed with the tracked skid steer. Contour the loam until slopes with a 10:1 ratio are achieved with the tracked skid steer.
Place six inches of topsoil over the entire area and level. The completed drain field should slope at a ratio of no steeper than 3:1.
Things You Will Need

Tracked excavator
Tracked skid steer
Laser level
Shovel
Rake
Geo-textile fabric
Washed sewer sand
Washed sewer rock
Sandy loamy soil
Top soil
Pipe Laterals
Septic system design
Marking flags