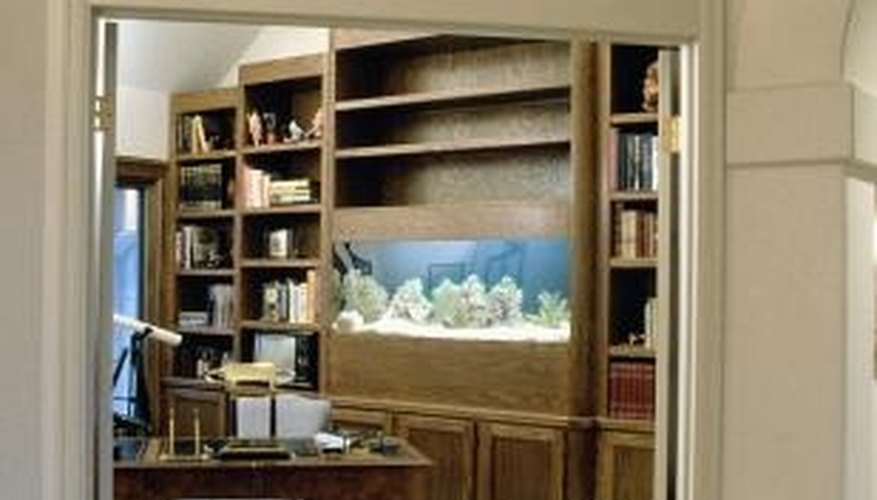 A bar with an aquarium built into it is an unusual and attractive addition to any home or restaurant. A well-constructed bar can add an atmosphere of congeniality in your home and is a good place to entertain guests. Fish in an aquarium have a way of attracting people and the aquarium-bar is bound to be a talking point on many a memorable occasions.
Draw a plan. Measure the aquarium and draw the outer dimensions of the proposed bar, showing where the aquarium will fit. A very large aquarium may be best standing on the floor because of its weight. A smaller aquarium could be placed on a platform. The bar can be the same width as the aquarium or wider. You may want to make shelves for glasses and bottles on the server side of the bar.
Measure the wood and cut it to size according to your plans. Screw the wood pieces together to build the frame. Use the lengths of 2-by-4's for a platform if the aquarium will be raised, and on the top to support the bar counter. Use 2-by-2's for the rest of the framing. The frame for a rectangular bar would be made from two horizontal rectangles of 2-by-4's on their sides for the base and the top, and two 2-by-2 uprights to go perpendicularly at each end.
Add extra support for the base if the aquarium will be raised. You may need to add one or two extra 2-by-4's inside the rectangle on the bottom. Cut and lay a sheet of particle or OSB board to make a shelf for the aquarium to stand and screw it down to the frame base.
Place the empty aquarium inside the bar on the floor or on top of the platform. Saw hardwood panels to the correct size and hammer or screw them into the sides and spaces around the aquarium to close in the parts of the bar where there is no aquarium.
Seat the bar counter on top of the bar. Measure and install strong hinges on the server's side of the bar so that the counter can be lifted for easy tank cleaning. You may have to install clips or bolts to hold the counter down on the visitors' side of the counter.
Set up the tank with gravel, plants and ornaments plus filters, oxygen bubblers, heater and thermometer. Fill the tank with water. Add the fish when the water is safe and at the correct temperature. Place a sheet of Plexiglas or lid over the tank to prevent splashing.
Install any concealed lighting under the bar counter. Once the tank and fish are in place you will better be able to figure out how to place the lights for maximum effect.
Things You Will Need

Tape measure
Saw
4-by-6 planks
4-by-4 planks
Particle board or OSB board
Aquarium with lid or Plexiglas sheet
Gravel
Plants
Ornaments
Filters
Oxygen bubblers
Heater
Thermometer
Fish
Hardwood panels
Bar countertop
Hinges
Concealed lighting