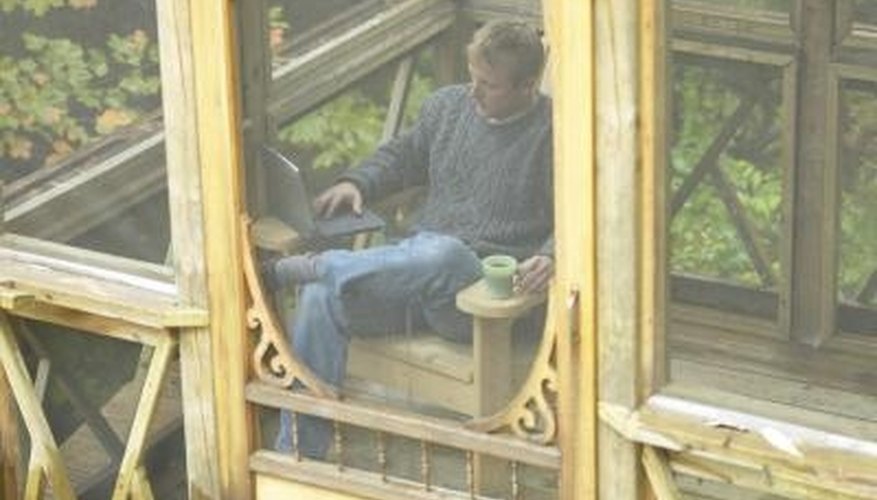 Provided the roof is sound, the space can be used for almost any type of activity. If you plan to use the new area for living or sleeping, you will need to insulate it well, however. The exterior of the porch can match your home or contrast with the home's exterior materials. It's possible to use recycled materials to enclose a screened porch in some cases. Be sure to get a building permit before actually starting work, however.
Check out the structural soundness of flooring and roofing. Reinforce the roof or flooring to make the space weather tight before framing in the space for enclosure. Be sure to add plywood, tar paper and asphalt shingles to the roof, for example. Build the enclosure to work as an actual living or sleeping space that works well over time.
Remove old screening material to frame the space. Install 2-by-4-inch boards to form the skeleton of the room. Figure out if you will route plumbing or wiring into the space. Make sure there are no city building codes that prohibit having a sink or electrical outlets in the enclosure, especially if it is a standalone structure separate from the house.
Use exterior materials that complement the house. Adding plywood that you will stain or paint might be perfectly acceptable. Install a window or two in order to add visual appeal, however. Create a structure that blends well with the house and other buildings on your property to protect its market value. Standard house siding or siding made of cement fiber material are possible choices, too.
Add insulation and moisture-resistant drywall inside the structure. Create smooth walls that can be painted, so the enclosure will seem like an interior room of the house. Add amenities such as wood trim, crown molding and shelving to enhance the look. Paint the interior and exterior of the enclosure with paint that is weather resistant. Use porch-deck paint as a good option for covering the exterior.
Install a burglar-proof door. Use a steel exterior door that can be locked, especially if you will store your computer or office equipment inside the screened room enclosure. Treat the space as part of your home, especially if you want to use it for media equipment or work activities. Install a door that will keep out the elements, even if you don't plan to lock up the new space.
Things You Will Need

Building permit
2-by-4-inch framing boards
Plywood
Windows
House siding
Insulation
Moisture-resistant drywall
Paint
Wood trim
Crown molding
Shelving
Front door