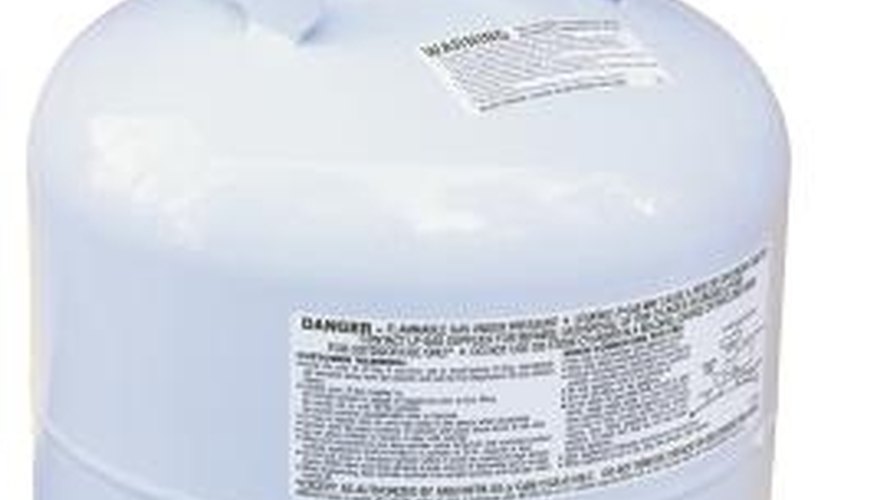 LP regulators control the flow of pressurized gas through a system, such as from a propane tank to a heater or gas grill. The regulator is preset at the factory to deliver gas through the line at a specific pressure and is designed to shut off if the pressure exceeds that preset level. If you need to replace a gas regulator, check the specifications for your appliance to purchase the correct Marshall regulator for your needs.
Turn the knob on the top of the LP cylinder clockwise until tight.
Connect one of the propane hoses from the valve on the side of the LP cylinder to the intake nozzle on the Marshall regulator, twisting the couplers clockwise. The arrow on the nozzle points toward the round regulator. Tighten the tank connection by hand only. Use pliers on the connection to the regulator.
Attach the second hose from the remaining nozzle on the regulator to the threaded valve on your gas appliance. Tighten both connections by hand, then finish with 1/2-turn on each coupler using pliers.
Mix water and soap in the squirt bottle and shake.
Unscrew the knob on the top of the LP cylinder.
Spray soapy water on the connection points at the LP cylinder, both sides of the Marshall regulator and the gas appliance. If the soap bubbles on the hose connectors or you detect the odor of propane, close the tank knob and start over.
Things You Will Need

Pliers
Propane connector hoses
Liquid soap
Spray bottle