Osage Orange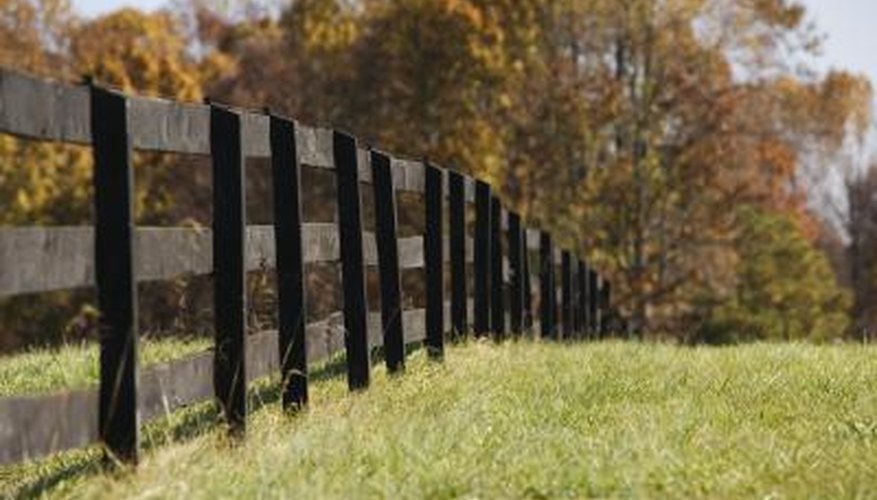 Many different species of trees are used to craft fence posts. The "best" wooden fence post for your fencing needs is dependent on availability, price, durability, strength and ease of maintenance.
Native to the Midwest and the southeastern regions of the United States, Osage orange trees (Maclura pomifera) provide wood for musical instruments, fine furniture and strong fences. Resistant to insects, fine-grained and strong, Osage orange wood is more expensive than some of the other choices of wood available; however, farmers and ranchers know that Osage orange wood split rail fences will last longer than most other woods. A fence constructed from Osage orange wood will last for more than 35 years. Osage orange trees, planted close together, are often used as a "living" fence. At maturity, the trees form a dense, impenetrable hedge.
Cedar
Cedar repels termites and other insect infestations; is resistant to aging from sun, rain and snow; and does not require painting or finishing. Cedar wood has an open cell structure and will readily absorb paint or wood stain, although if left unfinished it will age to a lovely soft "driftwood" gray tone. Western red cedar and northern white cedar are durable, easy to work with wood species that are widely used for decks, patios, outdoor furniture and fences.
Locust
Black locust (Robinia pseudoacacia), native to the United States, flourishes in the eastern coastal states and the Midwest. A deciduous tree, black locust wood is widely used for fence posts. A well-constructed black locust fence will last for decades.
Whitewoods
Named for the color of the wood when freshly harvested, whitewoods include fir, pine and spruce. All the different varieties of these woods have been utilized for fence posts. The majority of whitewood fence posts are pressure-treated with water-soluble salts to deter fungal growth, slow wood rot and repel insects. Whitewood is less expensive than some of the other woods used for fence posts, is easy to work with and will provide years of serviceability. The majority of whitewood fences should last 10 to 12 years. Whitewood posts are available from fencing contractors, lumberyards and do-it-yourself home and garden centers. When purchasing whitewood fence posts, look for the stamp, seal or other form of certification that indicates the wood is treated for subsoil applications. Treated wood is not advised for installation in close proximity to gardens or orchards. The noxious chemicals can leach out into the soil and contaminate food crops.