Soil and Detergent Residue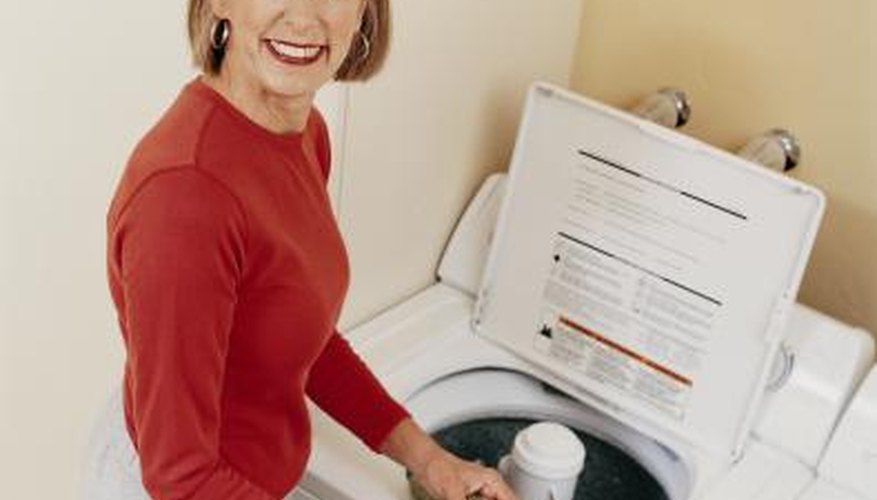 With its focus on transforming dirty laundry, you may not think of your washing machine as an appliance that requires any cleaning of its own. But dyes, calcium and odor-causing residues can build up inside your washer. How often you should clean the washing machine depends on the issue you are confronting, the cleaning method you are using and the type of washer you own.
Because high-efficiency washing machines use less water than traditional models, dirt and detergent residue can build up in hidden areas of the appliances. GE Appliances suggests that customers use Tide Washing Machine Cleaner once a month to combat this problem. Note that the product is designed for high-efficiency washers and should be used when the washing machine is empty.
Odor Prevention
Maytag recommends that owners who want to prevent odors in their washing machine do so by cleaning it once a month. For machines that don't have a built-in cleaning cycle, the company recommends using a product called Affresh. The product should be used in an empty washing machine and in accordance with the instructions on its packaging. As an alternative, Maytag suggests that customers place 1/3 cup of bleach into the designated dispenser and run a heavy-duty cycle with hot water and an extra rinse. This should also be done in an empty washing machine.
Stains and Calcium/Iron Buildup
If a bright red shirt "bleeds" onto the walls of your washer tub or you see a buildup of calcium or iron, you can tackle this problem on an as-needed basis. GE Appliances suggests filling the tub with hot water, then pouring in 4 oz. citric acid and running a normal wash cycle. After the cycle finishes, run another cycle with detergent to remove any remnants of the citric acid. GE says you can also try using a plastic scrub pad and a all-purpose surface spray cleaner with lemon to remove dyes and buildup. To remove stains from its wash tubs, Electrolux suggests using a nonabrasive household cleanser or diluted chlorine bleach (½ cup bleach to 1 quart water) and then rinsing the tub thoroughly.
Dirt and Sand
If you've ever cleaned a rug from the entryway of your home in a washing machine, you know that not all the dirt in the rug gets swept out when the cycle is done. Grainy particles of sand often remain on the wash tub. To remove these, Electrolux suggests wiping the wash drum with a nonabrasive household cleaner and then rinsing it.