Foul Smell From My LG Washer
LG washers, just like any other type of washer, emit foul smells when not taken care of properly. The washer might have a couple of problems that include a buildup of grease or sewage gases. Sulfuric smells in the washer might also happen, but they don't have anything to do with what's inside the washer. Before you call a specialist, you should try a few things that most likely will eliminate just about any smell coming from within the washer.
Causes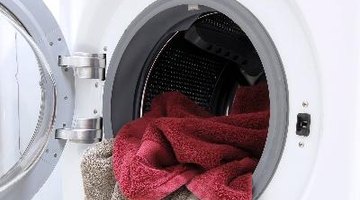 If your clothes come right out of the washer with a musty smell, you might have a grease buildup within the washer's pump system or tub. A sewage smell indicates that the washer's drain doesn't sit in the proper position. You don't necessarily need to dismantle the washer itself to get rid of any of these issues, but you must make it a habit to perform regular maintenance on your washer to allow it to continue delivering fresh-smelling clothes after every wash.
Musty Odors
You must clean your LG washer's gasket after every use and keep the door open to allow water to evaporate from it, according to LG's website. LG washers' doors lead into the machine past the gasket, collecting plenty of water. Wipe everything dry from the door to the gasket. To remove bad odors from the washing machine due to residual buildup of detergent, use a cleaning product specifically for washers. You must use high efficiency, or HE, detergent to properly prevent odors, according to LG. Other odors that aren't due to misuse of detergent may be eliminated using vinegar or baking soda through a regular wash cycle.
Sewage Smells
Although not a smell caused by residual build-ups, a smell of sewage coming from your washing machine indicates an issue with the position of the pump hose. If your pump hose sits below the "U-bend" of a sink or other drainage system, you must create a sort of bend on your own with the hose. You may do this by raising the hose about three or four inches higher than its connection point into the washing machine. It prevents gases from settling in the machine.
Tub Clean Cycle
LG washers sometimes come with a "tub clean" cycle, which you must run periodically to prevent the washing machine from gathering odors. The cycle has a programmed process that allows the washing machine to clean out the tub automatically. If you don't have a tub clean cycle, try running the washing machine on the cotton cycle or "bio care" cycle.
References
Writer Bio
Mikhail Polenin has been working with computers since 1997. His experience also expands to astrophysics, masonry, electricity and general appliance repair. He's written about various different subjects regarding astrophysics and electrical circuits for various online publications. Polenin attended the New World School of the Arts and the University of Florida.
Photo Credits
Towels in the washer image by Stephen VanHorn from Fotolia.com
More Articles