Subfloor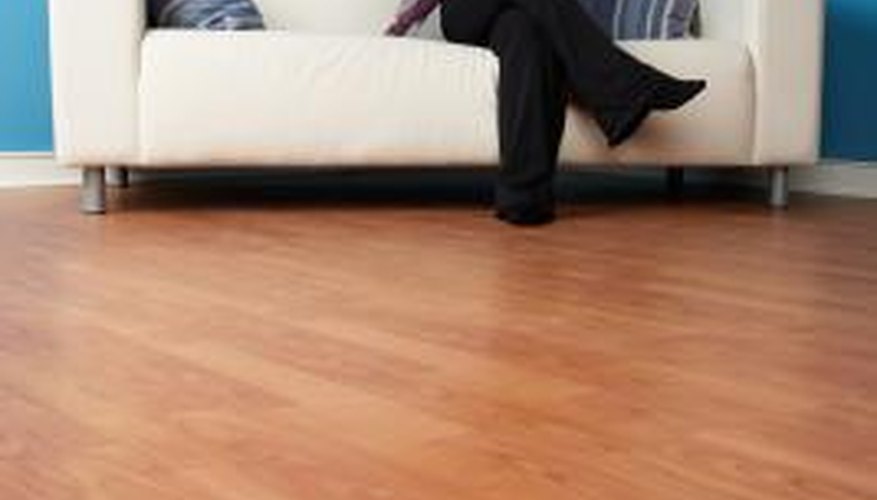 While this created a beautiful floor, the planks could absorb moisture from beneath the floor and buckle over time. Perhaps the most annoying problem with these floors was the squeaking of the planks rubbing against the joists when someone crossed the floor. Modern hardwood flooring depends on the use of a barrier between joists and the hardwood planks to prevent noise and to protect the hardwood.
Materials to construct the subfloor, which acts as a barrier between the joists and the hardwood planks, come in 4-by-8-foot sheets. Your contractor may use oriented strand board (OSB), moisture resistant plywood or another type of composite-type sheathing.
Solid Hardwood Installation
Between the subfloor and the flooring planks, you'll install a sound-muffling barrier to prevent the planks from making contact with the subflooring material. Asphalt-saturated felt, called "felt paper," comes in large rolls and you'll install a single layer over the subfloor. Rosin paper is an alternative to felt paper and is used in the same manner.
Engineered Hardwood Flooring
Engineered hardwood flooring is the new kid on the block and it features all the surface beauty of solid hardwood planks, but it's simpler to install. The barrier used with engineered flooring depends on the type of installation the manufacturer recommends. Some engineered hardwood flooring comes in planks and you can use felt or rosin paper as a barrier, just as you would for a solid hardwood floor.
Floating Hardwood Floors
Some engineered hardwood floors "float," meaning you will not use nails to attach them. With this flooring product, you'll install a layer of polyethylene foam, cork or another thin synthetic barrier on top of the subfloor. Use the type of barrier recommended by the flooring manufacturer to protect the warranty on your flooring.
Glue-Down Over Concrete
Solid hardwood isn't recommended for installation on concrete, but you may install some types of engineered hardwood here. If you're gluing down engineered hardwood, no barrier except the glue is required. Sold in gallons, you'll use a notched trowel to spread out a layer of this thick adhesive before installing each strip of flooring.