Peel & Stick Vs. Roll Down Roof
Flat roofs have their advantages and disadvantages, and require the right types of roofing materials to avoid problems down the road. On one hand, the flatter the roof, the easier it is to build. On the other hand, the flatter the roof, the greater the chance for leaks. To tackle flat roof jobs, homeowners and professionals often turn to either peel and stick or roll down roofing materials. The size of the job and the experience of the installer often dictate which material is used.
Peel and Stick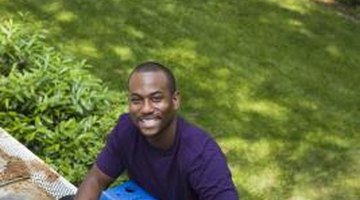 Peel and stick roofing material comes in rolls that can be as narrow as 1 foot, or as wide as 6 feet. Peel and stick is available with asphalt or aluminum surfaces. The backside is rubberized and has an adhesive coating. Since peel and stick material is manufactured with an adhesive backing, you don't need to apply additional adhesives or use hot fire torching to lay peel and stick roofing. It can be applied directly on top of the wood deck or substrate material or on top of a flat base sheet. Because you don't need to use a torch, mop or any type of special professional tools, peel and stick roofing is easy enough for homeowners to apply themselves. This also makes peel and stick a good choice for spot repairs on low slope and flat roof surfaces.
Roll Down
Like peel and stick, roll down roofing materials are good choices for flat and low-slope roofs. There are two main types of roll down roofing materials --- asphalt and modified bitumen. The asphalt variety is made of a single layer of asphalt blended with fiberglass. The material is rolled over roofing felt and attached to the roof base material, such as plywood, with nails and cold asphalt cement. The material's seams are filled with roofing compound to prevent water from seeping through to the underlayment or plywood substrate.
The second major type of roll down roofing is modified bitumen. This material originated in Europe and caught on in the United States during the 1970s. Laying down modified bitumen requires the use of a torch to heat the adhesive, while the modified bitumen is simultaneously unrolled onto the roof.
Similarities
Peel and stick and roll down roofing materials come in various widths and lengths. This makes both types suitable for repairing existing roofs, or as the primary material for new roof installations. Both also work well on flat roofs and roofs with just a slight slope or grade. In addition to residential applications, peel and stick and roll down roofing work well for commercial, industrial and institutional buildings.
Differences
Peel and stick is far easier to apply, which makes it a better choice for homeowners as a do-it-yourself repair or in full installations. Roll down roofing materials, on the other hand, are more complicated. They're typically installed by experienced roofing professionals. Experience in working with heat torches and the knowledge of how to properly reinforce seams is essential to work with roll down roofing materials and to install the materials correctly.
References
Writer Bio
Cheryl Munson has been writing since 1990, with experience as a writer and creative director in the advertising industry. She holds a Bachelor of Arts in journalism with a focus on advertising from the University of Wisconsin in Madison.
Photo Credits
Comstock Images/Comstock/Getty Images
More Articles