Pretty and Practical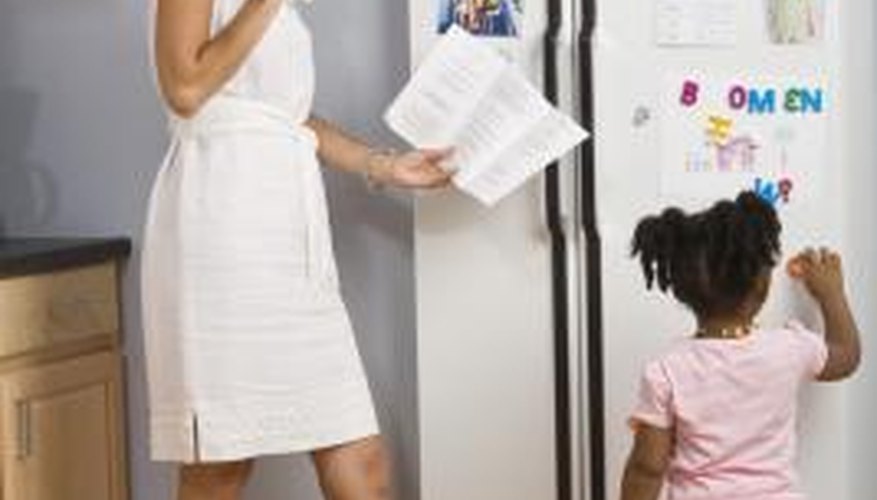 It typically becomes a catchall for things that have no "official" storage areas, such as light bulbs, coffee filters or household flashlights. You have several ways to turn the surface into an attractive part of the kitchen decor.
Instead of hiding cookbooks in bookcases or cupboards, set up a small freestanding bookshelf with attached, adjustable bookends on top of the refrigerator. Display the prettiest and most used books, and have them handy for reference. You can use clear plastic cookbook holders to showcase the colorful covers of your favorite cooking or home decorating magazines. Divide recipe cards into categories, and keep them in a collection of hand-decorated decoupage boxes of different widths and heights.
Live Decorations
If there is enough ventilation in the room to keep the area above the refrigerator cool, you can set a fish bowl on top and watch the fish swim as you cook and bake. If your refrigerator is an older model that gets warm, ensure the bottom of the bowl is suspended above the appliance on a rack or holder so the water does not get warm. Create a low-profile terrarium in a decorative jar or bowl to place on the refrigerator top. Potted flowers, houseplants and herbs that don't require a lot of sunlight thrive on the tops of fridges.
Decorative Storage Options
To safely display wine glasses and have them easily accessible, you can install a wine glass holder on the ceiling above the refrigerator and hang them upside-down by their stems. Place an old-fashioned roll top breadbox on top of the fridge. A selection of cubbyhole boxes provides attractive and practical storage for folded or rolled dishwashing cloths, kitchen towels and cloth napkins. If you drink wine on a regular basis, choose a wine rack that stores six or eight bottles of wine, and set it atop the fridge. However, don't store wine there for more than a day or two as the heat near the ceiling will compromise its quality.
Cabinets and Enclosures
Often there is enough room above refrigerators to install a wall cabinet or one that sits on top of the appliance. Choose one that matches the existing cabinets, or add an unusual flair to the room with a cabinet finished in a different color. Some kitchen design and furnishing stores have enclosures for refrigerators that surround them in a wooden structure with slats on three sides and the top. You can set a variety of items on top of the enclosure, or let the beauty of the wood provide an understated and attractive showcase for the appliance.