How to Decorate a Man's Bathroom
Decorating a bathroom means creating a soothing space. For women, that may mean flowers, candles and pastel colors. Most men, however, can do without flowers, frilly towels or pastel walls.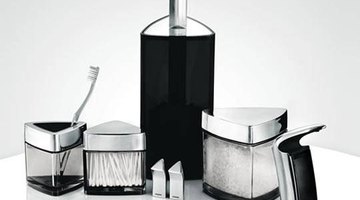 Things You Will Need
Large bath towels
Neutral color paint and painting supplies
Hardware of your choice
Simple shower curtain
When decorating a man's bathroom, it is important to think about what men like and appreciate rather than the latest styles for bathroom decor. In general, that means neutral colors and simple lines.
Choose neutral, masculine colors. For the walls, gray or tan works well and will go with whatever color of towel is purchased.

Select simple but elegant linens. Most men appreciate plainly decorated but high-quality items. Splurge on large, fluffy towels and avoid any that have ruffles or decorative patterns. Buy a quality bathmat as well.

Purchase bold accessories. Heavy silver, black or solid wood items such as shelves, toothbrush holders and towel holders are masculine and striking. Avoid anything with decorations such as tiny fish or seashells.

Add a shower curtain in a masculine color or style, such as one with vertical stripes or in a solid color.

Add storage units. Men like their bathrooms to be functional. Make sure there is a place to store magazines, toilet paper and shaving supplies.

Invest in modern, high-end hardware such as a sleek faucet and taller, more powerful shower head. Functional items are more important to most men than decorative touches.

Tip

Avoid black, because it makes a small bathroom appear dingy.
Tips
Avoid black, because it makes a small bathroom appear dingy.
Photo Credits
www.apartmenttherapy.com
www.apartmenttherapy.com
More Articles