How Much for Trex Fencing?
Though wood fencing can beautify and protect outdoor spaces, it demands constant upkeep to prevent damage from rot, mold and insects. Trex fencing boasts the decorative properties of this natural material, without any of the maintenance problems. As a bonus, the product has a 25-year warranty from date of purchase under normal residential conditions.
Basics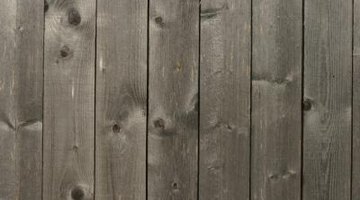 Trek is a composite product made from reclaimed wood fibers and recycled polyethylene. It comes in dark brown, light brown and gray colors that do not need painting or sealing, and will weather naturally to a beautiful finish. It consists of posts, top and bottom rail, pickets, caps, brackets and inserts. This makes installation easy enough for the do-it-yourselfer, which saves money on labor. Gate panels that measure 44 by 70 inches are also available with the same ease of installation through a gate hardware kit.
Cost
Trex fencing comes in three main styles. Seclusions shows a more finished appearance with its top and bottom rail. It costs about $35 per linear foot for materials and from $40 to $45 per linear foot for installation. The Seclusions fence with a spindle top runs about $45 per linear foot for materials and from $48 to $52 per linear foot for installation. Surroundings has a more old-fashioned appearance with no top railing. It costs from $25 to $28 per linear foot for materials, and about $32 per linear foot for installation. Custom designs, such as with curved-top gates are also available at varying prices. Costs come from CFC Fences and Decks, and are accurate at the time of publication.
Labor
The Bureau of Labor Statistics shows how wages for installers differ across the country. As of May 2010, they averaged $12.23 per hour, with lows at $8.16 per hour and highs at $17.90 per hour. Note that these amounts are lower than previously listed installation costs, because installation is what homeowners pay contractors, and these wages are what contractors pay workers. The states with the highest wages for installers were the District of Columbia at a mean $16.79 per hour and Alaska at a mean $15.78 per hour. States with rates lower than average included Texas at a mean $10.79 per hour and Florida at a mean $11.04 per hour.
Contractors
Getting estimates from several contractors can determine the best combination of price, efficiency and quality. Trex suggests asking potential installers for a business license and liability insurance, how long they've been in business, the number of fences built, and how much experience they have with Trex. References are important because it allows homeowners to visit actual examples of work, and judge the final result first-hand. Trex offers a list of vetted contractors on its website. They all have completed installation and product training on its products to achieve the TrexPro designation.
References
Writer Bio
Aurelio Locsin has been writing professionally since 1982. He published his first book in 1996 and is a frequent contributor to many online publications, specializing in consumer, business and technical topics. Locsin holds a Bachelor of Arts in scientific and technical communications from the University of Washington.
Photo Credits
Hemera Technologies/AbleStock.com/Getty Images
More Articles