Codes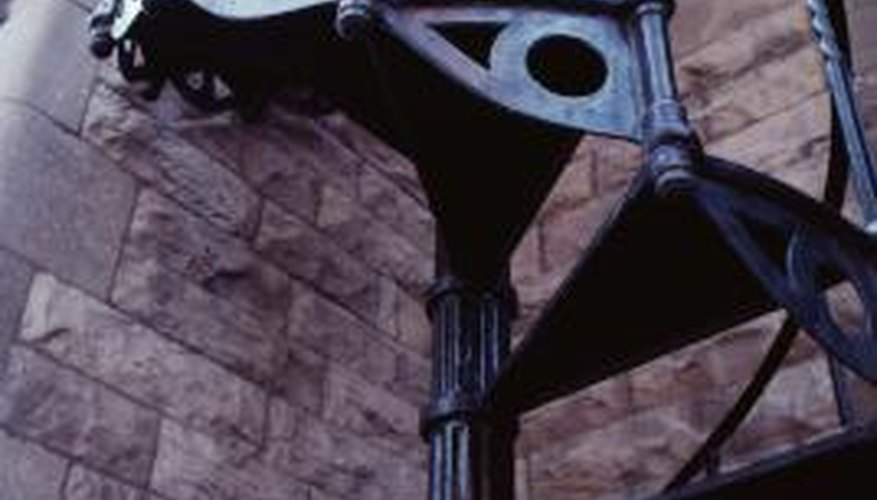 But it is complicated to construct and takes up a lot of room. A spiral staircase is more space-effective, is easier to install and can be modularly built.
Spiral stair dimensions are defined by three national building codes: CABO (Council of American Building Officials), UBC (Unified Building Code) and BOCA (Building Officials and Code Administrators). You need to check with local building authorities to see which code applies or whether more stringent local codes are applicable. The most common definitions are a minimum stair diameter of 60 inches for metal stairs and 64 inches for wooden ones. The minimum headroom between a step and the one directly above it is 6 feet, 6 inches, and the riser heights cannot exceed 9.5 inches.
Additional Codes
Additional specifications include baluster spacing at 4 inches or less, to prevent children from sticking their heads between posts. Handrails must be at least 34 inches from the tread nosing to the top of the rail, though the rails on the landing, well and balcony must be at least 36 inches tall. The landing must be at least 4 inches wider than the tread path, and the entire stair must have a minimum capacity of 300 pounds per square foot.
Considerations
Among the considerations when specifying the complete dimensions of a spiral stair is the height from the finished floor downstairs to the height of the finished floor upstairs, and how much space is available for the stair on both floors. You'll need equal diameters on both floors and will thus have to use the smaller of both measurements. A minimum size of at least 2 inches beyond the required stair diameter is needed on each floor, though wider is better. Low-traffic areas can make do with a smaller staircase, and high-traffic areas require larger diameters.
Example
Typical modular spiral staircases are those in the Eureka line available from Arke. Made of painted steel, they are suitable for interior and exterior use and can be installed clockwise or counterclockwise. They come in three diameters: 47 inches, 55 inches and 63 inches. The kits adjust in height from 8 feet, 3.25 inches to 10 feet, 0.125 inches. Additional parts can decrease the minimum to 6 feet,10 inches and increase the maximum to 12 feet, 4 inches. The staircase requires an opening at least 2 inches greater than the diameter of the staircase.