What Is a Fireplace Riser Bar?
Installing and maintaining a fireplace takes several kinds of tools and components. Burning items indoors without a complete fireplace installation can be very dangerous. While some fireplaces don't include doors, others have glass doors that control a fire's temperature and contain flames for increased safety. Some fireplace doors, however, require riser bars to function properly.
Description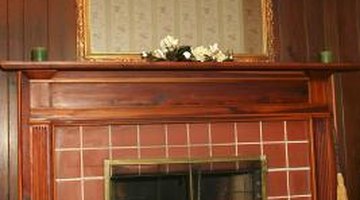 A fireplace riser bar is a thin strip of metal that is about as wide as the fireplace. It attaches to the bottom of a fireplace door to help seal off the fireplace's interior. Most fireplace riser bars are about 2 inches wide and 2 feet long, though sizes vary by model. With a fireplace riser bar installed, a fireplace door continues to operate normally but with additional material at the bottom.
Function
The riser bar enlarges the fireplace door's height, serving as a safety function by keeping coals and smoke from entering the home. It also gives the fireplace door a more finished appearance by eliminating the gap that otherwise would be between the bottom of the door and the fireplace masonry. The riser bar keeps heat inside a fireplace with blowers so that a thermostat and fan can control more precisely how much heat enters the room.
Installation
A fireplace riser bar typically installs with two or more machine screws and hex nuts. The screws pass through holes in a flat ridge at the bottom of the door and corresponding holes on a similar ridge at the top of the riser bar. Tightening the screws creates a strong seal that effectively extends the fireplace door several inches downward. To determine if your fireplace needs a riser bar, measure the fireplace's opening and compare it to the height of the door you plan to install.
Types
Most fireplace riser doors have the same metal construction, screw hole mounting and general shape. They are made in a wide range of lengths, finishes and brands to match existing fireplace doors, however. Fireplace riser bars are available in glossy and flat finishes of black, bronze and silver colors. Ideally, a riser bar blends with the door and matches existing fireplace hardware.