Ideas for Connecting Two Uneven Roofs
Building additions and improving your home can cause unintended consequences when it comes to maintaining a consistent roofline. Whether you add a porch or patio with a roof, replace the roof on a garage, or build a home addition, you may end up with roofs that have different slopes or heights. There are several ways to eliminate or cover the gap between two uneven roofs.
New Trusses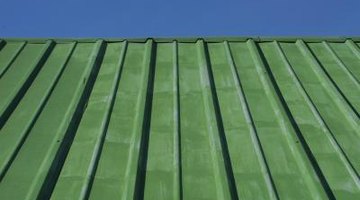 One of the most thorough ways to connect two uneven roofs is by installing new trusses. Prefabricated roof trusses are the industry standard for new home construction and renovation. Custom trusses can span the space between roofs, connecting them on a structural level and giving roofers a continuous surface to cover. Trusses are expensive compared to other options, but they also represent a permanent solution to uneven roofs.
Add Shingles
While extending a slate roof or large metal panels may not be an option, shingled roofs can be connected simply by adding shingles. This is a much simpler and less costly solution than altering the structure of the roof by installing new trusses. Shingles can allow the roof that is higher or less steep to effectively overlap the other roof, creating a single seam that covers the gap between the two roofs.
Solar Panels
A more creative way to connect two uneven roofs is by installing solar panels that span the gap between them. Solar panels are most effective on roofs that face south and receive direct sunlight throughout the day, making them only suitable for certain roofs. However, besides being large enough to cover even large differences in rooflines, solar panels also improve your home's energy efficiency and reduce electric bills for as long as you have them installed.
Gutters
Another way to fill in the space between two uneven roofs is by installing a new gutter system. This will help your roof shed water and may be another way of going green, if you collect the water for use on outdoor plants or direct it away from landscaping to minimize its ability to wash away nutrients that your plants need to thrive. A channel gutter between two uneven roofs connects to existing gutters and can be made of a material that matches the rest of the roof, making it nearly invisible when viewed from the ground.