What's a Non-Conforming Basement Bedroom?
Having a non-conforming basement bedroom rather than a conforming bedroom can make the difference between life and death. Conforming bedrooms meet legal requirements to ensure that the bedroom is safe, including the use of egress windows in case of an emergency. Other factors may determine whether a basement bedroom is non-conforming, depending on the laws in your area.
General Information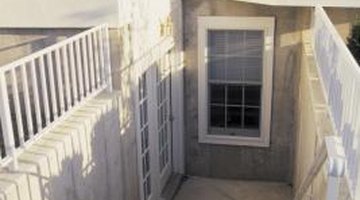 A non-conforming basement bedroom derives this name by not conforming to a municipality's building codes. It typically refers to a basement bedroom that doesn't have a sufficient egress window that serves as an emergency escape for the bedroom's inhabitant. Each municipality has its own specific building codes, so this definition can vary in different areas. The International Residential Code is a resource that provides basic requirements for building homes in a legal fashion.
Non-conforming Factors
A non-conforming basement bedroom often lacks the necessary egress window. Although not as common, non-conforming basement bedrooms can also refer to other aspects of building codes that are not followed, such as the lack of a closet, adequate square footage or minimum ceiling height.
How to Conform
Egress window size requirements may vary, but according to the International Residential Code, a standard window opening must have a net opening of 5 7/10 feet and must be no more than 44 inches from the floor. Twenty-four inches is the minimum net clear opening height and 20 inches is the minimum net clear opening width. The outdoor window well must be at least 36 inches wide and be no higher than 44 inches. The window and well should be free of obstructions and the window should be accessible from the inside.
Considerations
Although it may be expensive to make your basement bedroom conforming, failing to comply with the building codes could result in tragic events. Properly-sized egress windows can provide a safe escape for the person sleeping in the basement bedroom. Additional financial and legal consequences could also result from your basement bedroom not conforming. If you have a tenant staying in the basement, you could be illegally leasing a non-conforming space. If you sell your home and misrepresent the number of legal bedrooms, you could be sued by the new homeowner.
References
Writer Bio
Samantha Kemp is a lawyer for a general practice firm. She has been writing professionally since 2009. Her articles focus on legal issues, personal finance, business and education. Kemp acquired her JD from the University of Arkansas School of Law. She also has degrees in economics and business and teaching.
Photo Credits
Comstock/Comstock/Getty Images
More Articles