Ventilation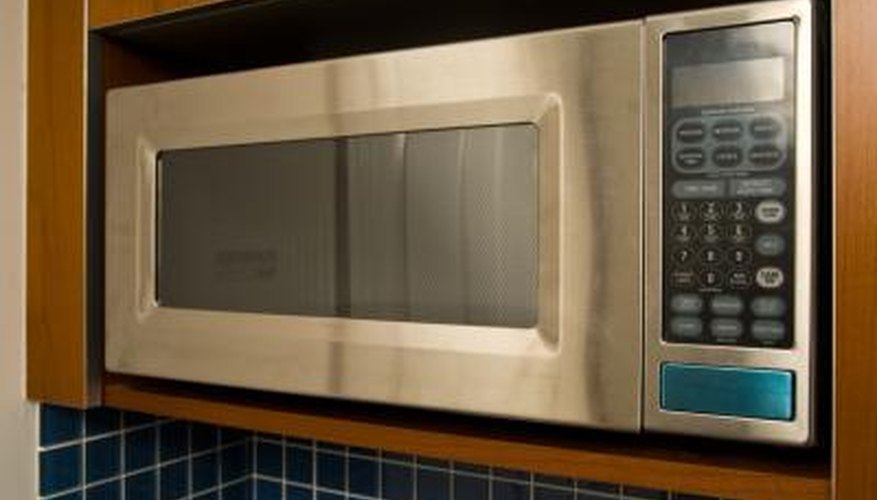 The microwave trim needs to be functional as well as decorative to give it a professionally finished look. You can buy pre-fabricated microwave trim kits or make your own from other types of trim.
If you intend to make your own microwave trim, you need to keep ventilation in mind. Over the range microwaves come in two types; ventilated and recirculating. Ventilated microwaves have adapters on the back ventilation panels that connect to duct work that vents the hot air to the outside. Recirculating microwaves use filters and recirculate the air without the need for vents. Microwaves take the air in from the surrounding area and then vent it out. If you do not offer proper ventilation to your microwave trim, then your microwave will not be able to get the air it needs to work properly. Be sure that your microwave trim includes ventilation holes so that the microwave can get the air it needs to operate properly.
Trim Kits
Most microwave manufacturers make microwave trim kits that are designed to fit around the microwave and offer ample ventilation. Microwave trim kits come in various widths that are designed to accommodate your cabinets. Before purchasing a microwave trim kit, measure the open space between the microwave and the cabinets to be sure you are getting the right size. Contact the manufacturer to find out the proper part number for the trim kit for your microwave and purchase the kit from your local home improvement store.
Filler Strips
Some microwave over the range installation kits already come with a spacer for the top part of the microwave trim. The spacer has ventilation holes and is designed to fit the width of the microwave. If this kind of an over the range kit leaves you open spaces on both sides of your microwave, fill them in with filler strips. Since the top part of the trim already has ventilation, the filler strips can be solid pieces of metal or wood. Get metal strips to match the color of the microwave, or wooden pieces to match your cabinets and install the properly sized pieces on either side.
Cabinet Trim
When an over the range microwave fits into the spot between the kitchen cabinets, it does not leave room for trim. But you can still put decorative trim around your microwave when you install molding on the cabinets. Use quarter-round molding that is a different color than the cabinets or a thin piece of decorative wood molding to accent the installed microwave.