Permanent Seats in a Shower Stall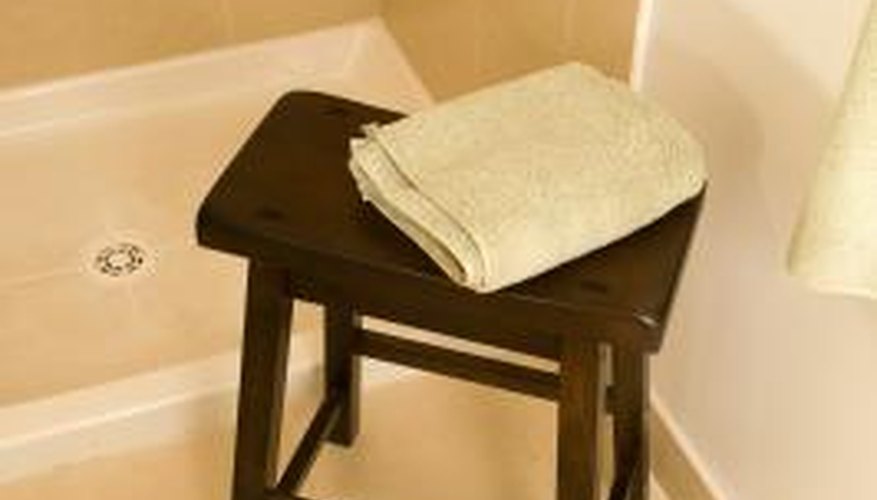 Many types of portable and permanent shower seats are available at retail stores and online mail order outlets. Thanks to the Americans with Disabilities Act, the federal government's guidelines for shower seats are easy to adapt for your specific situation.
If your home has a barrier-free shower stall, sometimes called a roll-in shower (for wheelchairs), a permanent seat makes showering easier. The size and position of the shower seat depends upon the size and shape of the shower stall. The ADA standards for roll-in showers call for a fold-up shower seat no less than 24 inches long and 16 inches wide. Fold-up shower seats should be placed next to the shower opening and adjacent to the wall where the faucets and shower head are located, if possible. Seats that do not fold up should extend from the back wall of the shower stall to within three inches of the stall opening. Seats should be between 17 and 19 inches above the level of the bathroom floor.
Permanent Seats for a Bathtub Shower
If you install a permanent shower seat in a bathtub, ADA guidelines specify the seats should be at least 15 inches deep and the seat should extend at least the full width of the back end of the bathtub. The seat must be sturdy, so if you have a freestanding tub, extend the seat beyond the sides of the tub and add legs to the outer edges for stability.
Portable Seats
Portable seats may be rectangular or round, with or without backs. These seats may be simple stools or larger, bench-type seats. All portable seats should be non-skid, which generally means the legs have rubber tips. Using the ADA specifications as a guide, choose a seat that is at least 15 inches deep. Measure the width of your bathtub or shower stall. Allow for about 2 inches of clearance between the tub or shower side walls and the seat to prevent pinching. The remaining area is the maximum width for the shower seat.
Considerations
Strategically placed grab bars enhance the safety of bathers using shower seats. Check the ADA guidelines and manufacturer's instructions for installing grab bars properly. Regardless of size, shower seats should be capable of supporting at least 250 pounds, according to the ADA. Check the packaging or instruction materials to be sure the seat you choose will safely support the user. Shower seats with higher support thresholds are available.