How to Install an Americast Tub
In many ways, Americast tubs are easier to install than conventional cast iron or fiberglass bathtubs. Americast bathtubs are much lighter than cast iron tubs. Unlike fiberglass tubs, Americast tubs have a ridged bottom, obviating the need to set it in a mortar bed. Although these tubs are much lighter than their cast iron equivalents, it's still a good idea to have a helper available for installation.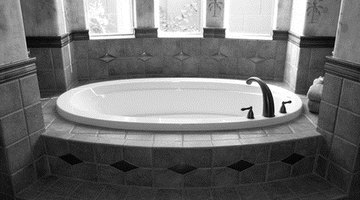 Cut the support stringer to length. Measure the length of each of the tub alcove walls, and cut a stringer out of 2-by-4 material to run the length of each wall.

Attach the support stringer to the tub alcove walls. The support stringer is attached horizontally to the alcove walls immediately below the tub rim. Nail in place using two 16d nails into each stud. The height of the stringer varies, consult the tub specifications for details.

Install the drain assembly. Apply plumber's putty to the upper flange of the supplied drain assembly. Place the drain assembly through the hole in the bottom of the tub, from the inside. From the outside, install the rubber seal, then the brass washer and nut. Tighten the nut.

Slide the tub into the alcove, and position it over the support stringers. Using 1 ½ inch roofing nails, drive a nail into each stud immediately above the rim of the tub, so the head of the nail catches the rim of the tub.
References
Tips
To prevent damage to the tub, don't overdrive the roofing nails holding the rim.
Writer Bio
David Brown began his writing career while still in college, writing and editing research grants and scientific papers. His work has appeared in such journals as "The Journal of Clinical Investigation" and "Gastroenterology." He currently owns a construction company in Boulder, Colo.
Photo Credits
More Articles