Boxing in Ductwork With a Drop Ceiling
Create a livable room from a utility space, such as an attic or basement, by finishing the walls and ceiling. Covering the exposed ceiling with a dropped ceiling hides the rafters and some of the ductwork. Concealing exposed ductwork with a dropped ceiling might work in some cases. Knowing when you can use a dropped ceiling to cover ductwork ensures that your finished space passes inspection.
Dropped Ceilings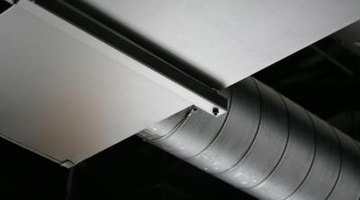 Dropped ceilings, also known as suspended ceilings, are composed of tiles suspended on a metal grid built lower than the floor joists from the floor above or the roof rafters in an attic. These cover the pipes, wires and some ducts in the unfinished ceiling. They even out the room's top with a slanted, unfinished ceiling. Installing acoustic tiles in the dropped ceiling can dampen sound from the floors above.
Ceiling Height
The code for required ceiling height in a livable space differs from a storage room. If you are using a dropped ceiling in a basement being converting into a bedroom or living room, the ceiling should not be lower than 90 inches, over half the room, according to "Basements, Attics and Garages: Plan, Design, Remodel" by Creative Homeowner. If you box ductwork under the ceiling, it cannot be lower than 84 inches above the floor, which is the minimum height for nonliving spaces, such as bathrooms, halls or kitchens.
Why Use a Dropped Ceiling
Hide ducts, pipes and electric cables behind boxes or dropped ceiling even if you are not converting the entire basement into a livable room. Putting utility lines behind a ceiling protects them and helps insulate pipes in the winter. A dropped ceiling also creates a sound and heat barrier between the floor below and the floor above. Cold air and noises from the basement are less likely to rise into the living area above if there is a finished ceiling in the basement.
Boxing in Ductwork
The main system duct is near the basement's origin. This largest duct also hangs lower than the others from the ceiling do. When installing a dropped ceiling, this main duct will likely not fit inside the dropped ceiling space. Install a separate boxed-in area around the duct for concealment. These wooden boxes should fit against duct's sides keeping the metal from view. If you must install a box around a duct, add an access panel near the damper for making seasonal adjustments. Support beams that hang below the dropped ceiling may also need boxing.
References
Ultimate Guide to Home Repair & Improvement; Creative Homeowner Press
Black & Decker Building & Finishing Walls & Ceilings: Drywall, Paneling, Ceiling Tile, Wall Covering, Trim Moldings, Texturing; Phil Schmidt
Tips & Traps for Remodeling Your Attic, Basement, and Garage; R. Dodge Woodson
Basements, Attics and Garages: Plan, Design, Remodel; Creative Homeowner
Photo Credits
Jupiterimages/Photos.com/Getty Images
More Articles