Options for Installing Duct Work in Low Ceilings
Ducts installed in the ceiling, below the floor or in the walls of your home allow air to travel from the furnace or air conditioner to every room in a combined heating and air conditioning ventilation system. Installing ductwork in a room with a low ceiling is tricky, but a few modifications make it possible.
Low Profile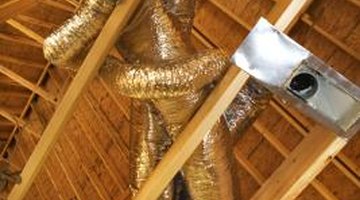 Low profile or flat ductwork fits in the tight space between a low ceiling and the floor or roof above it. These lightweight ducts come as short as 2 and 1/2 half inches in height. This allows you to install hidden ducts in a smaller space. Traditional boxy ductwork can be up to a foot in height and requires a few inches of clearance between the duct and the walls of a room.
Suspended Ceiling
If your existing low ceiling is too cramped to fit new ductwork inside it, try using a suspended ceiling. Lightweight ceiling panels sit on metal frames that hang from the old ceiling and cover up the installed ductwork. This only works in rooms where adding a second ceiling a few inches lower will work. The panels remove easily so you can check or maintain ducts regularly without permanent damage to the ceiling.
Exposed Ducts
Many basements and finished crawl spaces feature exposed ductwork because installing a ceiling to cover it would make the room unusable. If you have to leave the ductwork exposed, there are ways to minimize its visual impact. Painting any metallic or off-colored ducts to match the ceiling they're anchored to makes a big difference. Some duct systems come with fabric covers in a variety of colors to hide the ducts as much as possible.
Ductless Systems
When the ceiling is just too low to install a suspended ceiling, and you can't walk through the room without hitting your head on surface-mounted ducts, consider a ductless heating or cooling system. These systems use multiple air handlers spread around the building instead of one big blower and ducts to distribute the air. You'll still have to install the air handler in a wall or on the ceiling, but it will take up far less space.
References
Writer Bio
Jessica Kolifrath is a competent copywriter who has been writing professionally since 2008. She is based in the Atlanta area but travels around the Southeastern United States regularly. She currently holds an associate degree in psychology and is pursuing a bachelor's degree in the field.
Photo Credits
Thinkstock/Comstock/Getty Images
More Articles