Measuring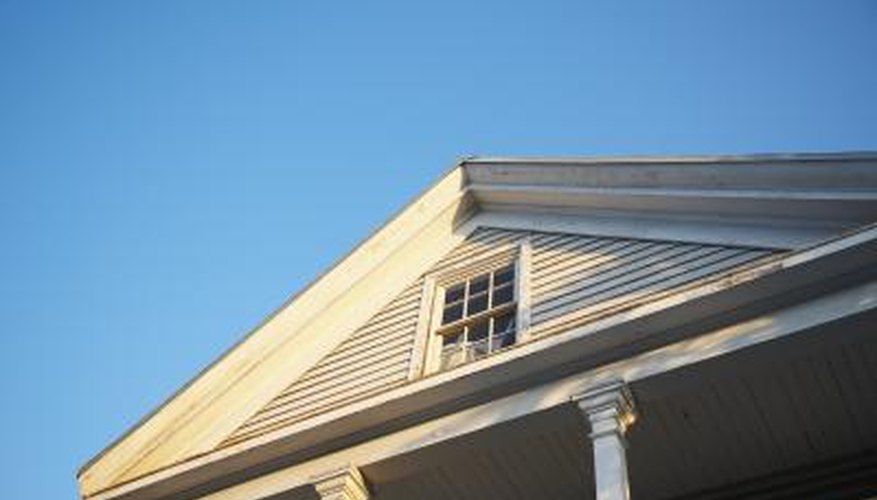 Each step of the way, you'll need to make an investment in the improvements, however, so you should ensure those funds increase the value of your home.
Whether you build your gabled roof from scratch or purchase a pre-made roof truss, you'll need to know the measurements of the height you intend to end up with and the length and width of your mobile home. Manufactured roof trusses typically are made of 2-by-4s and galvanized screws. A simple T-frame truss is used for lengths of up to 22 feet. Light-frame construction roof trusses can fit mobile home lengths of up to 50 feet. The costs will depend on how high you want the gables and how long and wide your home measures.
Materials
Another difference that will affect your cost is the type of material you use. A wood gabled roof may use up to 30 or 40 2-by-4s at about $2 each. A box of 1,000 galvanized screws can costs up to $75. Then you have to cover the roof. Shingles usually start at about $1 per shingle; you buy them in bundles of 26 or 27 for $25 at your local big box store. The added roofing material costs to include the underlayment and coating will run you about another $100. Galvanized steel on the other hand is much more inexpensive. It's another roofing option that runs close to $12 for a 96" run of the corrugated metal. At the same time, you'll still need wood to form the gables on each end of your house.
Contractors
Bringing in a roofing contractor will certainly cost you more than doing it yourself, but you may end up with a safer and more attractive roof if you splurge. According to the U.S. Bureau of Labor Statistics, as of 2008, roofers averaged about $16.17 an hour, with the most experienced earning closer to $22 an hour. If you figure about three days of work for two roofers and factor in the cost of the contractor and materials, you're looking at between $2,500 and $3,000 to have a new gabled roof installed in a small 30-foot mobile home.
Warning
Mobile homes situated in high wind locations that are common sites for hurricanes and tornadoes to hit may not be the best places to install a gabled roof. According to the National Hurricane Center, gabled roofs provide a solid surface for high winds to hit and cause extensive damage. If your home is in a risky high wind location, you should spend more on the installation for the roof to strengthen its hold. Truss bracing with 2-by-4s running the entire length of the roof is the most effective protection against destruction. Use 14-gauge, 3-inch screws to anchor the bracing. Add additional bracing to the gables in an X-pattern. You should insert 2-by-4s every 18 inches. Expect to pay a little more than $2 for an 8-foot 2-by-4, adding another $50 or so to your overall material costs.