Rebuilding a House From Studs
In a number of cases it is necessary to strip a house down to its bare studs and rebuild. Mold or water damage, asbestos contamination, natural disasters and the desire to restore an aging home to its original condition can all warrant this painstaking process. While there is a great deal of work required to restore a house to a functional state, it is doable, but requires breaking the project down into manageable tasks.
Interior Walls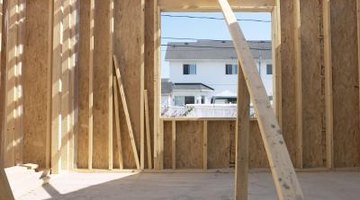 One of the most obvious choices associated with restoring a house from its bare studs is the choice of wall covering. Drywall is a standard and effective solution, but it's not the only one available. Wood paneling is another option, and is typically easier to install and less expensive than drywall. Both can be attached to the bare studs using any combination of nails, screws and construction adhesives. For rooms that are exposed to moisture or high levels of humidity, ceramic tiling makes sense. Tiling needs to be applied to a solid surface of wood, drywall or cement board, which ultimately entails quite a bit of manual labor, but the finished result is usually well worth it.
Flooring
After covering up the bare studs of your floor with a layer of plywood, you can now choose the finishing material for your flooring. Appropriate flooring varies from room to room, with common choices including carpeting, wood paneling, and tiling. Living areas are commonly finished with carpet or wood panels, both of which can be found at any major home improvement store. Areas prone to moisture, such as the kitchen and bathroom, benefit most from the use of tile.
Ceiling
Though drywall is the most common ceiling treatment in residential houses, more options are available. Wood paneling can be applied in much the same manner that it is applied to walls or flooring. Dropped ceilings consisting of metal framework around a series of tiles is sometimes used in basements, but typically serves as a secondary ceiling and is used to separate an unfinished ceiling surface from the living space below it.
Plumbing and Electrical
Depending on how bare the home is, you may need to reinstall plumbing or electrical systems. Work of this caliber is best left up to professionals, who own the proper equipment, tools and materials for the job.
Furnishings
Stripping a house down to its studs and rebuilding calls for the removal of all the contents, including installed items like shelves, cabinets, lighting fixtures, and doors. Once you have completely rebuilt the walls, floors and ceilings of a house, then you can concentrate on replacing these items.
Photo Credits
Hemera Technologies/AbleStock.com/Getty Images
More Articles