Anti-Slip Products for Shower Seats & Shower Floors
Benjamin Franklin once said, "A small leak can sink a great ship." The quote is so true for many things we find not so significant, one of which is occasional slipping in the shower. Salvation lies in anti-slip products: safety mats and coatings. Many types of mats are available; they differ in shape, size and material, and come in many colors. Coatings come in two forms: liquids and sprays. Both are applicable to floors and shower seats.
Gum Mats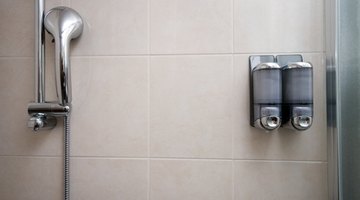 Gum mats are the most commonly used anti-slip solution. They always work, unlike anti-slip coating products. Classic gum mats are suitable for shower floors and can prevent the slipping of shower seats and people alike. Their greatest flaw is that they absorb odors and dirt. They are washable, but that does not help with odors. Because they are cheap, the easiest solution is to replace them. Simply choose the shape, size and color you prefer. All stores selling bath and shore products have them.
Anti-slip circles
Anti-slip circles work on the same principle as classic mats. However, they are self-adhesive -- you simply put them onto the floor of the bathtub or shower. They are a more discreet and usually inseparable part of hotel bathrooms. Their advantage is that they do not get dirty so easily, but they are more expensive. The usual diameter of non-slip circles is 3.5 cm. Various models include transparent and textured designs. Their flaw is that they are not an optimal solution for shower seats, because they do not cover the entire surface of the bath.
Vinyl Safety Tapes/ Strips
Vinyl safety tapes are a new invention. They have evolved from traditional non-slip silicon tapes for staircases and other slip-risky surfaces. They are self-adhesive and highly hygienic. No headache ensues with figuring out dimensions either -- you simply cut the tape to the desired length. Non-slip tapes come in several hues, depending on manufacturer: clear, white and textured (in several colors). In some cases, they may come in rolls. Rolls are more suitable for shower seats than strips. They're broader, hence covering bigger surfaces, leaving less space for seats to slip.
Anti-Slip Coatings
Many anti-slip coatings are fit for bathrooms, marble floors and other slippery surfaces. Universal coatings may prove very tricky to use for shower floors: Their performance varies depending on surface. Using a coating for bathrooms only is the best solution. You may choose an easy open-and-apply liquid solution, concentrate or spray. The spray is the best solution if you want to apply color to the shower floor. Coatings are resistant to abrasion and have no odor. Most common products are polyacrylic and epoxy coatings. When applying the coating, make sure the shower floor is dry.
References
Writer Bio
Jensen Johansson has been a freelance writer since 2006. He writes for various print and online publications, specializing in health and wellness, history, science and craft-related topics. Johansson holds Master of Science degrees in biomedical engineering and mechanical engineering, both from the University of Miami.
Photo Credits
More Articles