Ideas for Do it Yourself Shade Structures
You may love getting outside on sunny days, but solar rays can also be an enemy. Find a way to provide shade to your yard or patio without busting your wallet or back. Easy "do it yourself" projects are available for any size yard, deck or patio needing some protection of the sun and rain. Many shade-providing structures involve a simple frame with a layer of fabric making them lightweight for anyone to assemble. Or, if you enjoy a little more of a project, you can purchase "do it yourself" kits for build more permanent shade-providing structures.
Umbrellas
Purchase one or more umbrellas and position them in your yard to provide strategic shaded areas. Lillian Pikus, publisher of the online home decorating magazine Trendir, writes that "patio umbrellas and parasols are the perfect way to create ambiance." Because of the range in styles and adaptability of patio umbrellas, they are among the easiest "do it yourself" shade structures to erect and will fit your style preferences. Create a line of them to shade larger areas. You can place umbrellas and parasols into stands for concrete patios, into adaptable tables for dining, or even hang them from above so they aren't in the way at all.
Canopies
Canopies can shade a significantly larger area than umbrellas because they come in any shape and size. You can erect canopies anywhere. If wind and rain is not a threat, you can build a very simple canopy using four posts. Stake them into the ground and attach a corner of decorative fabric to each post. More solid types of canopies come in easy to assemble kits and have waterproof vinyl covers for rainy days. Shade sails, according to Elle Décor, are easy to assemble triangular pieces of stretched, UV blocking fabric. You can suspend them above patios, porches, pools and other outdoor spaces to provide a hassle free, contemporary looking canopy.
Awnings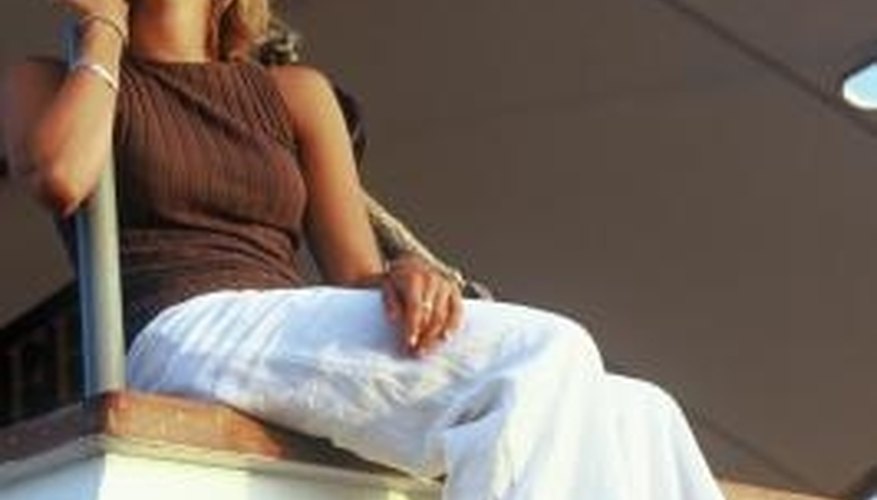 Awnings are simpler to install than four posted canopies because they come off of a wall or structure. They are made of cloth or vinyl to provide shade, filtered sunlight or water protection. There are two types of awnings: retractable and fixed. According to About Patio Designs, retractable awnings are slightly more expensive but easier to use and install than fixed awnings. Retractable awnings can be rolled up when you don't want them out, either manually or via motorized device. The ability to roll up the fabric also protects it when it's not in use. Fixed awnings can also be taken down, but you will have to take apart the frame and fold the fabric manually. Either way, awnings require no construction skills to erect and provide excellent patio shade.
Pergolas
If you are looking for a structure that is a little more permanent, building a pergola requires only basic knowledge of construction, and kits with clear instructions are available for purchase. According to Popular Mechanics, a pergola is "just the thing to bring a backyard area to life." They also provide step by step instructions for building your own. A pergola is a four-posted wooden structure that supports an open roof of spaced wooden beams. If you want to waterproof your pergola, you can place plastic or metal sheeting on top of the beams. Otherwise, a climbing vine with plentiful foliage will create cool, colorful shade beneath the wooden frame.