Type of Plywood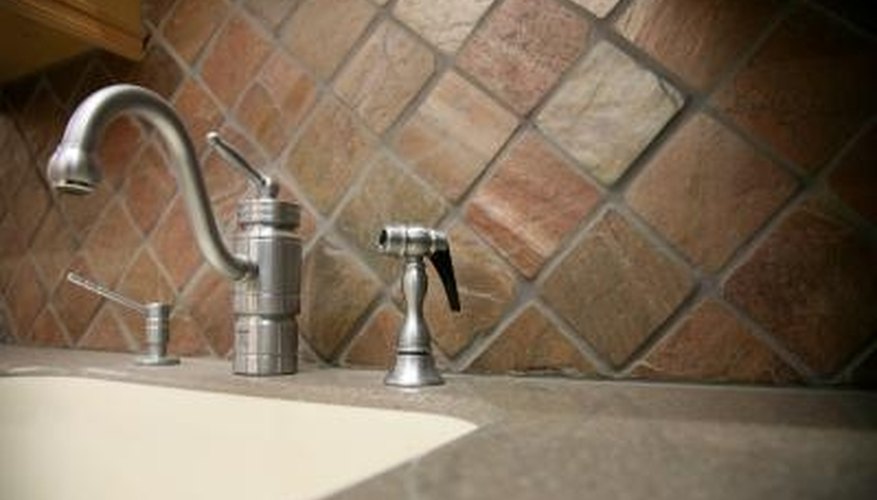 However, granite is extremely heavy, so the support system holding it up must be strong and sturdy. Plywood works well as long as it is the appropriate size and is properly prepared.
The ideal support system for a granite tile countertop features ¾-inch-thick plywood. The plywood should be cut wide enough so that it extends 5/8 inch over each edge of the countertop. The length of the plywood pieces will vary by countertop. If it is a small area with only outer edges, a single plywood board will suffice. However, for wider areas that feature multiple support studs, cut the plywood boards so that the ends of the boards meet in the center of a stud for best support.
Prepping for Plywood
You cannot simply install the plywood over the supports of the lower cabinets under the countertop, because the supports are often not strong enough to support the plywood plus tile. Instead, use wood blocking strips along the edges and studs of the support system. These are generally 1 inch by 4 inches or 2 inches by 4 inches, and provide an extra layer of strength to support the weight of the heavy tiles. The plywood is then attached to these blocking strips with long, galvanized screws that hold the weight and stand up to moisture in the area.
Prepping the Plywood
You must use a level to check that the plywood sits completely flat and fix any damage or high areas before you install the tile. This may involve using a hand sander, regular sandpaper or wood filler putty to create a completely flat surface. Once the plywood is flat, cover it with a cement tile backerboard, which provides a layer of cushioning between the tile and plywood. The backerboard better holds the tile adhesive and adds an extra layer of strength to support the heavy tiles.
Other Information
Remember that if you want the tile to extend up the wall or backsplash, you need to cover the wall surface with ¾-inch-thick plywood as well. The plywood can be installed directly to the wall with drywall screws. To secure the backerboard to the plywood, use thin-set mortar and then nail the boards in place through the plywood with shingle nails installed every 6 inches. The nails are necessary to fully secure the backerboard to the plywood, since thin-set alone does not absorb fully into the plywood; this is the reason for using the backerboard at all, instead of simply applying the tile to the plywood.