Beige, Yellow and Gold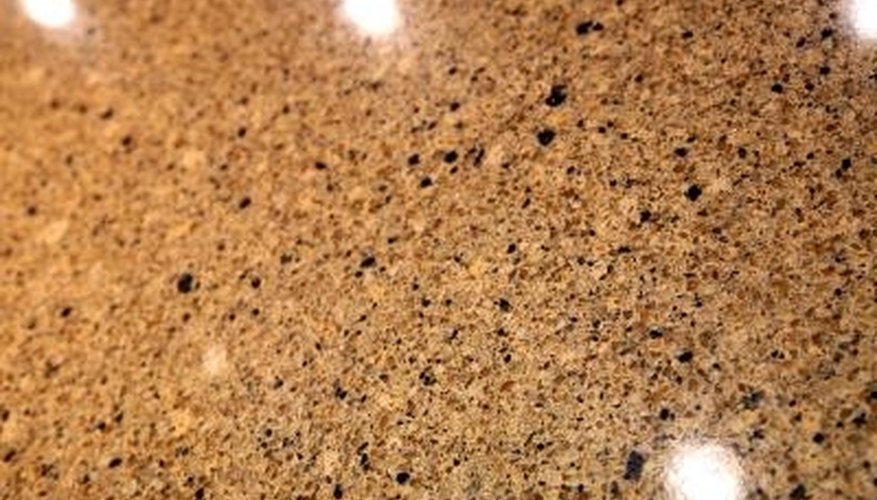 Thousands of colors of granite are available to choose from, each of these falling into 11 separate categories or subclasses of color. No matter what the color scheme of your kitchen, there is a granite out there that will suit in color.
Numerous crossover exists between colors in granite counters with many counters containing secondary or tertiary colors, such as burgundy flecks in a gold counter. However, there is a general classification of stones, which includes shades of beige, yellow and gold. Granite is a natural material and prone to variation; one stone that appears yellow may be classified as gold. Some colors of granite that fall into these three categories are Carioca Gold, Colonial Gold, Giallo Ornamentale, Giallo Antiquo, New Venetian Gold, Santa Cecilia, Delicatus, Golden Butterfly, Imperial Gold, African Beige and Ivory Fantasy.
Red, Burgundy, Brown and Pink
Red is a less common color in granite, with many stones classified as red appearing as pink or burgundy. Some stones are labeled as burgundy, meaning they are a cross between red granites and brown. Red, pink, burgundy and brown granites can range from very light to very dark and incorporate multiple shades of color including some green, blue, black and white. Stones that fall into these color classifications include Cinnamon, New Imperial Red, Juparana Florencia, Kangaroo, Fouco, Dakota Mahogany, Red Malibu, Shiva Pink, Atlantic Pink, Baltic Brown, Brown Chocolate, Deer Brown, Elegant Brown, Golden Noir and Intense Coffee.
Green
Green is one of the most common colors of granite sold today. It is also one of the largest categories of stone, with hundreds of granites falling into the category of "green." Green granites range from stones that are nearly black, such as Uba Tuba, to very light colored stones such as Costa Rosa. Green granites also run from fairly sedate to extremely wild such as Golden Lighting, Marinache and Turtle Green. Other stones in the green category include Laurentian Green, Emerald Pearl, Wild West, Spring Green, Coast Green, Costa Esmerelda, Verde Lavras and Jungle Green.
Blue and Purple
Blue is the rarest of the granite colors as well as one of the most dramatic. Purple stones are slightly more common and enjoy some crossover with the blue family. Blue stones can be very expensive due to their rarity; not uncommonly, those who love the color blue use other stones that contain small amounts of blue, such as Bross Blue or Sapphire Blue Brown as well as Lavender Blue. Some stones that fall into the blue or purple family include Atlantic Blue, Azul Bahia, Azul Macuba, Blue Eyes, Blue Fantasy, Typhoon Blue, Blue Pearls, Bahama Blue and Amadeus.
Black, White and Gray
Rounding out the colors of granite are black, white and gray stones. Frequently these stones contain shades of other colors, such as blue, gold, pink, burgundy and tan, but the predominate color will belong to its color class. Stones that fall into one of these three categories include Bianco Sardo, Absolute Black Granite, Bianco Romano, Pietra, Black Galaxy, Black Cosmic, Black Mosaic, Black Pearl, Antique Ice, Chemlsford Gray, Azul Platino, White Wave and London White.