The Best Can Openers for the Disabled
Disabilities of the hands, wrists and arms can cause difficulty opening canned goods. Specialized can openers make the process easier for individuals living with arthritis, or who've suffered an amputation or a disabling injury. Individuals with disabilities may experience problems with the palmar or pincher grasps required to operate some can openers, or may require a device that only involves the use of one hand. Kitchen appliance designers now create several types of can openers ideal for individuals with disabilities of the hands.
Hands Free Can Opener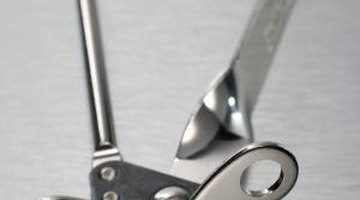 The hands free can opener attaches to the lid of the can, and with the touch of a button rotates around the can, cutting just under the lid. This opener functions as the can sits on the counter, allowing the disabled person to avoid handling heavy canned goods while struggling to open them. The can's lid then pops off easily and without sharp edges. This cordless can opener runs on batteries. Sharper Image, Hamilton Beach and Daka all make one-touch can openers that operate on a similar design.
Black & Decker KEC600
Black and Decker's KEC600 offers consumers with disabilities a dishwasher-safe, cordless can opener that only requires one hand to use and minimal pressure to start. The ergonomic design and lightweight body allow for equal ease when operated with either the right or left hand.
Croydon Tin Opener and Stand
The Assist Ireland website and the Disability Resource Center of Auckland recommend the Croydon tin opener and stand. A platform mounted into the wall holds cans up to 2.4 lbs. The disabled individual then uses one hand in a palmar grasp to turn a handle and lift the can. A second handle directs a blade to cut and remove the can's lid. The can opener fits into the wall, with easily removable keyhole fittings, to allow for removing and cleaning the device.
Ring Pulls
Ring pulls help a person with disabled hands open tabbed or ring pull cans. Ring pull openers may include a plastic wedge-shaped end and long handle. The disabled individual can use either a pincher or palmar grasp to insert the wedge-shaped end under the ring pull. The long handle increases leverage.
References
Resources
Writer Bio
Jessica Alzarana has a Bachelor of Music in music composition from the University of North Texas and is currently pursuing a graduate degree in music therapy from Texas Woman's University. Alzarana essays have been published by UNICEF State of the World Children's Report & BootsNAll.
Photo Credits
BananaStock/BananaStock/Getty Images
More Articles