About Fences in Maryland
Putting up a fence in Maryland is not necessarily a simple matter. Each county has its own regulations regarding construction of a fence. You may need a permit before beginning. The countie also have laws about swimming pools, and they may require you to enclose the pool with a fence as a safety barrier. Do some investigating before you start building.
Height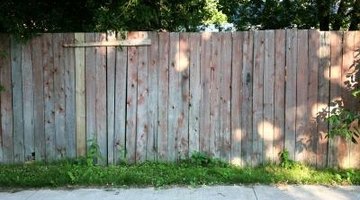 Your county may have restrictions on the height of your fence. For example, the maximum height for a front yard fence in Baltimore County is 42 inches. You may construct higher fences in the side and rear yards. However, if you have a corner lot, your fence can be no higher than 3 feet and must be 25 feet from the corner of two streets to prevent obstructing drivers' vision. Carroll County simply stipulates that fences must not interfere with the visibility of traffic.
Permits
Howard County requires a permit to build a fence over 6 feet high. Permits are not required in Frederick County if you are outside the Incorporated Town. You must obtain a permit for a fence over 42 inches high in Baltimore County. Harford County also requires a building permit for installing a fence. The counties usually require a fee associated with a permit to construct a fence.
Pools
Carroll County requires that a swimming pool barrier must be a minimum of 48 inches high. The county also has specific measurement limitations for openings in a fence, such as those in a lattice fence and the mesh of a chain link fence. You must equip access gates with a locking mechanism. Frederick County also requires a 48-inch barrier for inflatable pools with a depth of 24 inches or more. Anne Arundel County also requires a 4-foot fence around pools and it must include a self-latching gate.
Considerations
Prior to constructing a fence on your property, get familiar with the codes and regulations within your county or city. Carroll County advises citizens to contact Miss Utility at 1-800-257-7777 before placing posts or footers. If you live near the water, you may have additional restrictions. For example, if you wish to place a fence on a waterfront lot in Anne Arundel County, the county will review it for the potential impact it may have on neighboring properties with regard to light, air and view. If you live in a development with a homeowners' association, be sure you are within the rules of your neighborhood before constructing a fence.