Beyond Black and White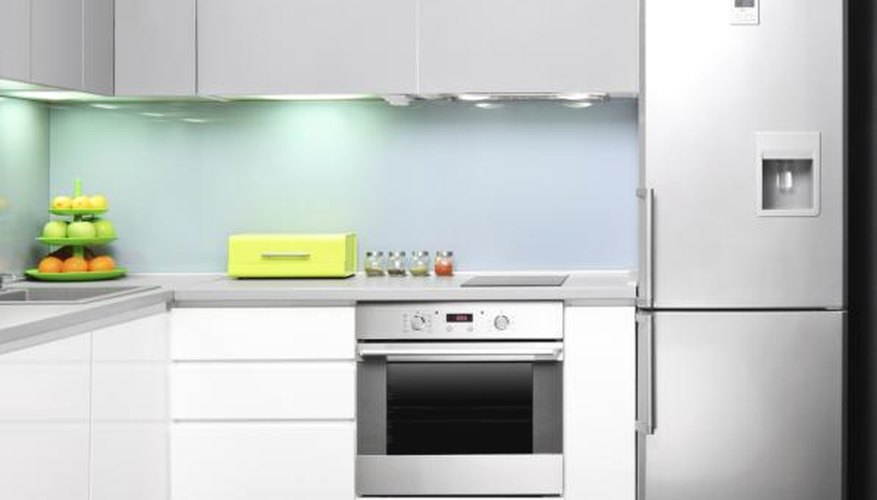 Neutral gray is formed with either a mixture of pure black and white or a mixture of equal parts of a pair of complementary colors, colors directly across from each other on the basic color wheel. Gray looks attractive in many places – on the walls, floors, cabinets, countertops and backsplashes. Even stainless steel appliances contribute a shiny form of gray. Build a monochromatic color scheme using variations of basic gray for a unified, serene kitchen. Gray also works as an attractive foil for an accent color that expresses your style and personality. Introduce an accent color on just one surface or on accessories to add punch to neutral gray.
Explore gray hues beyond simple combinations of black and white. Each pair of complementary colors produces a slightly different version of gray; some are warm and some are cool, but all are rich, interesting colors. Paint the walls a warm gray such as putty or dove to balance the cooling effect of bright white cabinets and bluish gray counters. Or choose a cool, slate gray to complement wood cabinets with a warm finish. Add natural slate backsplashes and black granite countertops for an elegant look. Warm grays produce a soft effect, while cool gays appear more sophisticated and industrial.
Cabinet Color Dominates
You have control of the lightness and darkness, sometimes called value, of any basic gray color tone by adding white or black. Color swatches at paint stores show progressive steps of a single hue from light to dark to help you visualize a range of color values. Consider all of the color surfaces in the kitchen before selecting your color scheme for larger areas. Select a cabinet color first and build from that because cabinets are the dominant color area in a kitchen.
Keep It Light
Kitchens rely on good light to function efficiently, so when natural and artificial light are limited, choose a light cabinet finish such as white, cream or pickled (a thin white rubbed finish) and combine it with pale, silvery gray walls and butcher block countertops. If you have plenty of natural or artificial light, darker values of gray produce a dramatic effect. In combination with pewter walls and pale gray ceilings, use a medium gray paint on the upper cabinets and a deeper gray on the lower cabinets. Add 3-inch square light gray tiles on the backsplash and light gray granite counters for a fashionable look.
Paint Purposefully
Strive for a variety of dark and light tones to create contrast and feature architectural elements such as windows and woodwork. Painted cabinets do not have to all be the same color gray. Using a darker value on the lower cabinets and a lighter value on the top adds weight and interest to the space. An accent wall in a darker color creates a focal point and balances a space with light-colored walls and cabinets. Light ceilings can be a tint of gray instead of plain white.
Texture to Touch
Smooth cabinets in pewter gray featuring polished nickel or chrome hardware provide an exciting textural contrast to the warm finish of a wooden floor. The texture of a gray marble counter contrasts effectively with a shiny white backsplash of subway tiles. Pale gray cabinets and floors with a pickled finish set off classic white appliances for a fresh, airy look. A backsplash mosaic of 1-inch square tiles of varied gray tones looks elegant with white walls and cabinets and stainless steel appliances. Warm-toned wood cabinets look rich combined with a faux tin tiled backsplash and gray granite counters.
Accessorize With Color
Small appliances and kitchen linens in bright colors add visual punch in a neutral monochromatic color scheme. China and glassware in lively colors become important mood-setters against a gray backdrop. Gray provides a complementary background for the vivid colors of fresh fruits and vegetables that are often on display in a kitchen. Fabrics with strong colors like lemon yellow or poppy on furniture or windows look especially appealing when combined with gray.