Ideas to Cover a Damaged Wood Table Top
When you have a damaged wood table top, it is often easier to creatively disguise the nick or scratch than it is to refinish the entire table. There are a variety of decorative solutions that will seamlessly blend into your decor so that no one will ever know your table is flawed.
Table Cloths and Runners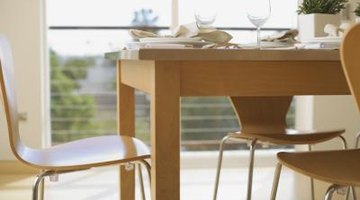 An inexpensive way to hide a damaged wood table top is to get a table cloth. These come in all different sizes, colors and designs and you can change the covers for holidays, seasons or special occasions. Table runners are similar to table cloths, but only cover a portion of the table--usually the middle. These are good choices if you'd like to show off some of your table's wood or finish but still cover a damaged area.
Centerpieces
If the damage is in the middle of the table, you can station a centerpiece right on top. If you don't have a centerpiece, you can easily make one with household items. Fill a decorative bowl with fruit or Christmas bulbs. Cover a cake plate with candles or fill a tall vase with branches or flowers from your own yard. Wreaths, small sculptures, fancy kitchenware and serving trays make good bases for last-minute centerpieces. Serving trays filled with food or snacks can serve as your centerpiece and disguise your table's imperfections from your guests.
Place Settings
A fully set table is an impressive and festive way to cover damage. Start with place mats and chargers. From there, add a plate to each setting with a bowl on top. Add cloth napkins, silverware, water glasses and wine glasses you're done decorating the table with place settings, you'll likely have covered the damaged areas. This is both decorative and functional; however, if you're using this at a dinner party, your imperfections may be exposed as guests clear their dishes.
Game Table
If you're into playing poker, you can turn your damaged table top into a poker game table. You can buy a poker cover or a poker tabletop that fits over your existing piece. If you prefer other games, like checkers or backgammon, you can purchase removable game table toppers or paint the game boards onto the table yourself.
References
Writer Bio
Heather has more than 5 years experience as a home and garden expert, both in a leadership position with the nation's top home and garden superstore, and as a freelance writer.
Photo Credits
Brand X Pictures/Brand X Pictures/Getty Images
More Articles